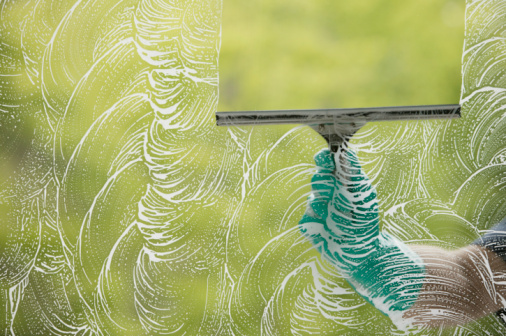 Ah, Monday morning, and the client knows your company has made a call over the weekend. Not only is the place sparkling and tidy, the air has that faint, clinical/medicinal scent to it, so clean it makes their eyes water—literally.
Someone sneezes, another person coughs, and the boss goes home early with a bad headache. Unbeknownst to you, you may have sent one of your favorite people—and the person who signs your paycheck—to the hospital.
Not only is going green the best thing to do for the environment, it could also keep your cleaning crew and your clients from getting sick, perhaps seriously.
Here's some little know facts about popular chemical cleaners.
Air fresheners interfere with your ability to smell by releasing nerve-deadening agents. These products often contain toxic chemicals like formaldehyde and phenol, both of which are known carcinogens. If phenol touches your skin, it can cause it to swell, burn, peel, and/or break out in hives.
Everyone knows that bleach is a strong corrosive. It can burn your skin, and the scent can irritate your eyes and respiratory tract. But did you know that if bleach is mixed with an acid toilet bowl cleaner or ammonia, the combined chemicals can produce fumes which are deadly?
Carpet and upholstery shampoos do a great job of removing spots, but not without a price. The highly toxic substances that get rid of stains can include perchlorethylene, a known carcinogen that causes liver, kidney, and nervous system damage.
A common cleaner, chlorine was first used in World War II as a chemical warfare agent. Scientists won't handle chlorine without protective gloves, facemask, and ventilation, yet it's in most store-brand cleaners. The harmful effects of chlorine are intensified when the fumes are heated, as in showers, swimming pools, and Jacuzzis. There's even chlorine in our drinking water.
And last but not least, most dishwasher detergents contain a highly concentrated form of dry chlorine. Every time you wash your dishes, some chlorine residue is left which accumulates with each washing. Food then picks up a part of this residue, especially hot food.
So, the next time you do your normally wonderfully job of cleaning his office, don't blame the dust mites or pollen count if the client complains of skin irritation or a headache. Consider for a moment that your cleaning agents may be making your clients sick, and your employees too.
Going Green, anyone?