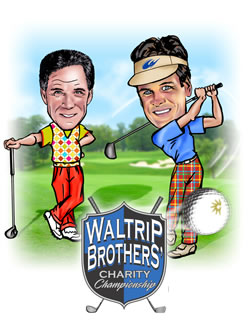 Representatives from Jani-King International, Jani-King of Knoxville and Jani-King of Nashville participated in the annual Waltrip Brothers Charity Golf tournament in late October.  As a key part of Jani-King's business to business networking strategy in motorsports, the company was the major sponsor of the golf event and used the opportunity to gain valuable connections for future business opportunities.  Master franchise owners Tom Coke and Victor Berrios made connections with not only potential local customers, but also ones with national account ties.
"This was an event that we were proud to co-sponsor," said Victor Berrios, Master Franchise Owner for Jani-King of Nashville. "Not only did the event open numerous doors for our business, it also raised funds to help those in need.  The event organizers as well as repeat attendees were very thankful to Jani-King for our support."
Jani-King received significant exposure on the host golf course and at the celebrity packed banquet that took place the night before the golf tournament.  In addition to signage around the golf course, Jani-King had two ads in the banquet program, a prominent logo on the promotional truck for Feed the Children, and numerous mentions as a proud sponsor.  NASCAR team owners, drivers and members of the national sports media were all in attendance as well as world-renowned celebrities such as former heavyweight boxing champion Evander Holyfield, former Heisman Trophy winner Archie Griffin, actor Elliot Gould and country music legend Charlie Daniels.
In its fourth year, the Waltrip Brothers event raised over $400,000 for charities that include Feed the Children, Motor Racing Outreach and Charlie Daniels' Scholarships for Heroes, a program that provides college education for returning veterans.
Through the event, Feed The Children was able to deliver a semi tractor-trailer full of food and essentials to help 400 Fort Bragg families. The distribution is part of Feed The Children's Americans Feeding Americans Caravan, which has helped hundreds of thousands of families across the country since it began in 2009.
"Michael and Darrell Waltrip have tremendous reach into the business community within NASCAR," said Mike Biggs, Executive Director, Sports Partnerships and Business Development at Jani-King.  "Not only were we able to engage local and national B2B connections while at this event, we also receive ongoing exposure on the Feed The Children truck that travels all over the nation. This can provide terrific public relations opportunities in markets where the truck will deliver food."