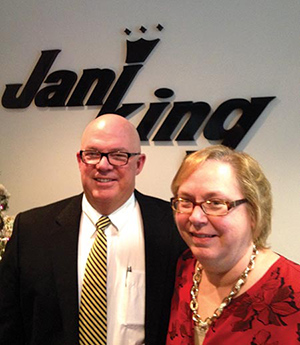 Richard and Cynthia Allen certainly have the understanding and dedication to accomplish any mission.  As Captains' in the United States Army, the married couple from New Jersey both served six years of active duty before leaving the military for civilian life.  Now, they intend to put their military leadership skills and previous business experience to work for them as they prepare for their next mission.
"Both of us are accustomed to hard work and mission accomplishment," said Richard.  "We strongly feel that our previous military experience, sales, product presentation and management skills will be key to ensuring our success.  We know that this will not be easy, but we are willing to put in the effort and resources that are necessary to be successful."
After the military, Richard began a career in the window and patio door business mostly selling to The Home Depot and Cynthia continued her career in hospital administration.  While the couple experienced success in both roles, they had a great desire to have a business of their own.
"We have always wanted to be our own boss – to have an integral part in our own success and
when an opportunity arose we began investigating franchises," said Richard and Cynthia. "We researched several franchise opportunities before deciding to open a Jani-King franchise.  Jani-King is a first class organization and we felt that it would be a very good fit based on our skills in sales, operations, and administration. We liked the idea of a home based business so we could focus our capital where it mattered- equipment, promotion and people.  Many of the franchise companies we spoke to wanted us to make the investment but did not have a plan to get us sales.  Jani-King was the only opportunity that was willing to guarantee sales at a pace we wanted to grow."
The couple isn't wasting any time getting started, having already begun training in the Jani-King of New Jersey regional office.  In addition, they anticipate specific roles for each person that will help them manage their business.
"I have extensive sales experience which will be instrumental in landing new accounts and making sure that we not only meet but exceed our customers' expectations to retain them.  Cynthia's expertise is in attention to detail in dealing with all of the supporting documentation necessary to ensure our business's financial success and maintain regulatory compliance," said Richard.
Right now, the couple also plans to take immediate steps to recruit and hire staff that they can
eventually promote and train into supervisory positions.  But they also have set short-term and long-term goals in order to keep them focused on their mission.