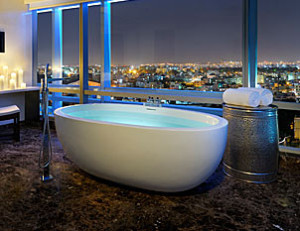 Having a clean hotel is one of the most important factors in gaining customer loyalty. Depending on the hotel and the services offered, there may be unique features that require a specialty cleaning solution. It is necessary to utilize a quality hotel cleaning service to achieve consistent customer satisfaction.
People tend to gravitate towards hotel options that are known to provide a clean environment. Quality is a major deciding factor for customers when considering hotels. As a result of the occasional negative experiences with hotel cleanliness, people are often concerned with the quality of hotel cleaning that they may receive prior to and during their stay. This concern can be silenced by utilizing the Jani-King cleaning solution. Trained professionals will ensure customer satisfaction with hotel sanitation during every visit.
Since different hotels and rooms offer varying experiences, tailored cleaning procudures come into play. For example, a hotel room that allows smoking or allows pets to stay may have extra materials and air that need freshening. In addition to room variations, some common amenities are offered in hotels like complimentary food, event rooms and gym equipment. These all require a more frequent cleaning schedule as the areas in which they are located tend to dirty faster. Jani-King provides a thorough hotel cleaning program for every hotel's needs through its professional housekeeping staff.
At the end of the day, hotels hope to gain positive feedback, and incorporating high hotel cleaning standards is an effective way of doing so. Satisfied customers will keep people coming back because they are pleased with their past experiences and know what to expect. Having a clean and hospitable environment will create a positive hotel brand. Once the public becomes aware of the top quality cleaning services a hotel has, they will create positive word of mouth and enhance the brand reputation. Employing the highly trained professionals at Jani-King ensures results that go beyond the hotel room.