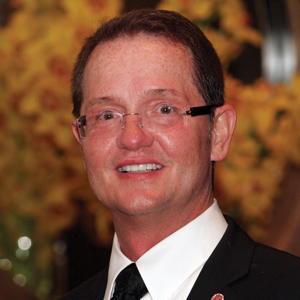 In so many moments in life, one has the opportunity to change their course. Whether that course of change was initiated by one's own desires or by outside circumstances, what happens next is truly up to that person. For Atlanta unit franchisee Craig Taylor, an unexpected turn of events in his business forced him to consider several options, including closing his business, but with great support and commitment, Taylor knows he made the right choice to stay with Jani-King.
Below is Mr. Taylor's story, in his own words. What you'll read is a story of success, challenge, support and perseverance.
"It has been one of the biggest challenges for the past three years to overcome losing half of my business all at the same time. In fact, in 2011, I faced one of the biggest challenges I have ever experienced in my life when the $500,000 monthly business I was operating came to a sudden end.
Starwood Properties was one of my main accounts and I was their preferred vendor in Atlanta. My franchise serviced all of their properties by providing housekeeping services and overnight service. But that was about to change.
In 2011, Starwood hired a third party management company to oversee their vendors for all departments in their hotels. We all knew this was coming sooner or later, and it finally came. When Guidant came aboard, they started a process to have new contracts signed and they implemented new rules and stipulations. Jani-King and I then took a hard look at their agreement and percentages of profit. After many long, consultative discussions, it was decided that the agreement was not in the best interest of myself and
Jani-King, which in return meant I would no longer be a preferred vendor of Starwood.
Starwood and Jani-King worked with Guidant trying to come up with the right wording for their contract and percentage numbers to make it profitable. At that time, we all thought that we had it settled and I would be able to continue servicing their hotels. Starwood was also helping, doing everything to make this work because they did not want to lose the 12 year relationship I had built with them and a new vendor to start all over. Eventually, the decision was made that we could just not agree to the new contract terms with Guidant.
My life changed at that moment. I was in shock at that point, realizing that after 12 hard-working years of building my company it was all going to be lost.
I had 30 days to complete working with one of the biggest hotel brands. I asked myself, what do I do now? I asked myself over and over if I should stay with Jani-King and try to rebuild, knowing that we would not be a part of the Starwood brand and that I was limited to what I could sign. Or, do I start working on my resume and take my talents and knowledge of the Hospitality industry and start a new journey. I knew that I was going to have a huge change in my life. I sold my house, sold my car to lower payments, closed my office and laid off all my management staff.
Mr. Mike Barnes Sr., Master Franchise Owner for Jani-King of Atlanta, basically held my hand daily, worried and concerned if I could handle all the changes in life so fast. I developed a strong connection and leaned on him daily, he was my rock. For the next two years Mr. Barnes made sure I was okay and advised me on restructuring my company. He made me a better business man and taught me so many things that I grew sure of my commitment to Jani-King and not starting a new job. He reassured me while I was putting out fires day-after-day.
I would not have stayed with Jani-King if it wasn't for the Atlanta office and everyone in the office. They worked days and night to help me have all I needed to rebuild.
On November 1, 2014 Sheraton Gateway Hotel sold to new owners. As soon as I found that out I got in touch with the new General Manager and made an appointment to meet with him. We met, hit it off immediately and ended up having lunch the next day. I asked him at lunch how it was going with their services in housekeeping. I gave him the history of my relationship with Starwood and that I provided services there in the past. I asked him if they were happy with who they were using and he said no and that this was perfect timing to get with their Director of Housekeeping, Emma.
When he said 'Emma' my eyes light up. I had worked with her for 10 years and we had a good working relationship. The next day I made an appointment with her and she was so excited that I was bidding on providing services to them again. Emma and I working closely together for the next few days to get all the details I needed to present a bid, which I had approved by Jani-King of Atlanta. I hand delivered the contract and was awarded the contract. I knew then that I was back in the game.
Today, I am back providing all of their housekeeping needs, kitchen needs, banquet staff and doing their overnight services.
Life is looking up and I owe everything to Mr. Barnes and the Jani-King office for all of their support and direction. I am so proud to be part of Jani-King in Atlanta."
"Mr. Taylor has been a franchise owner for 27 years and a major part of the Jani-King of Atlanta operation for the last 14 years," said Barnes Sr. "His example and willingness to help other franchise owners has given the other Atlanta franchisees a lofty goal to shoot for.