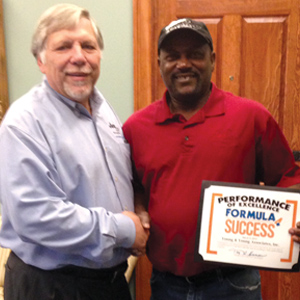 No strangers to the cleaning business, brothers Ervin and Christopher Young, along with their wives Samantha and Jacqueline, purchased their Alexandria, LA based franchise in 2007. The Young's father, Marvin, taught his boys how to clean businesses as young men and laid the foundation for the two to become successful in a business of their own.
According to Ervin, their father taught them early on that in order to feed your family, you have to earn a living. So each day after sports practice, the brothers would meet their dad to help him get his janitorial business finished for the night. In fact, it was their father who recommended Jani-King to the aspiring entrepreneurs.
"We already knew how to clean," said Ervin. "But with Jani-King, we receive support from the Alexandria office which helps us to get accounts, bid and also access equipment."
When they first started their Jani-King business, the brothers and their wives did all of the cleaning themselves. Today, they have eight employees helping them clean a total of 28 buildings managed by the franchise. With so many buildings, the family manages their time wisely. Ervin is now able to put in more time overseeing the franchise now that he's retired from his previous job.
"We decided early on that the key for us to be successful was to satisfy whatever cleaning need the customer asked for and to make them happy when thinking about their building," said Ervin. "Also, the life lessons received from our father makes us a success in the cleaning business."
According to Walter Arceneaux, Regional Director for
Jani-King of Alexandria, the Young's are all fantastic ambassadors for Jani-King. "They always have a smile on their faces and love what they do, and it shows," said Arceneaux. "The family recently signed five bank locations in neighboring towns and it wasn't a surprise for us to learn that the reason the customer turned to the Young's was because their father is the custodian for the main branch in Marksville."
"We'll get that one too, if ever dad retires," ended Ervin.