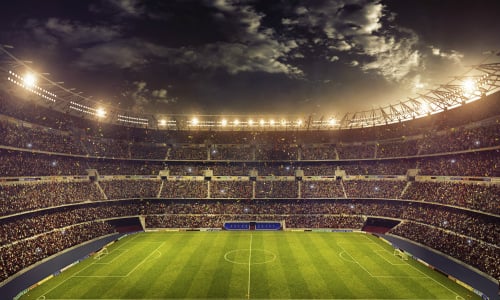 Jani-King has been in the commercial cleaning business for over forty years. They have seen it all and know how to clean it all. No job is too big or too dirty for Jani-King cleaning crews. This is no place that this holds truer than it does to Jani-King's stadium cleaning crews.
Stadium cleaning can be a daunting task for anyone, even seasoned commercial cleaning veterans. Luckily, Jani-King knows how to get this gigantic job done as quickly and efficiently as possible. As the official cleaning company of the Dallas Cowboys Stadium, the largest domed stadium in the world with seating for over 80,000 people, Jani-King knows that having a tried and true system is the key to success. Stadium cleaning technicians who work for the king of clean are trained on the proper ways to clean quickly, but without missing any of the details (like gum on the bottom of seat chairs).
Stadium guests may be there for any number of reasons. Although most stadiums are built for sports teams, many stadiums are used for a multitude of events when the home sports teams aren't playing. Concerts, events, conventions, exhibitions, and much more can all take place at a stadium. Stadium parking lots are also often used for different events because of their vast open areas. Having a stadium cleaning crew that knows the in's and out's of the entire property will help to make sure that every nook and cranny is cleaned in detail.
Other areas to consider using cleaning crews trained in stadium cleaninginclude movie theaters, arenas, amphitheaters, concert halls, race tracks, and speedways. Cleaning crews from Jani-King should be considered for any large venue that needs a professional cleaning job. If you are in charge of a large venue or a have a big event coming up, give the king of clean a call today to set up your personal cleaning crew!