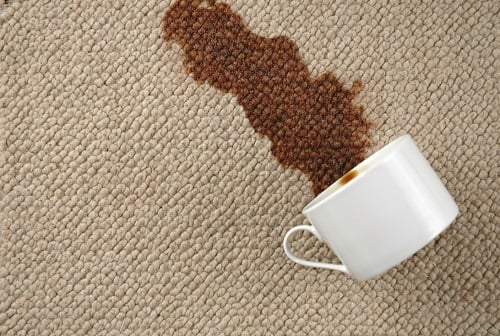 There are three steps to maintaining clean, great looking carpets: vacuum frequently, clean up spills promptly, and hire a professional cleaning company that specializes in steam/hot water extraction to clean the carpets.
Vacuum Frequently
The best weapon in the the cleaning war against dirt is a really good vacuum cleaner, one that adjusts to carpet or rug height and has gentle yet strong suction power. Less expensive vacuums pick up surface dirt and nothing deeper, and can actually contribute to dulling down and aging a carpet.
Another way to tame dirt and dust in a carpet cleaning situation is to place door mats in high-traffic entryways and areas. Practical rubber mats and decorative indoor/outdoor mats reduce the amount of dirt and dust, and thus allergens that enter a building. So do carpet runners in high-traffic areas.
Clean Up Spills Quickly
Spills are inevitable and must be cleaned up quickly. The sooner a spill is removed, the less time it has to penetrate and leave a stain. To clean up a spill, remove as much of it as possible by blotting. Use club soda to saturate the area, and then blot and dry as much as possible.
Always blot from the outer edge toward the center to prevent spreading. Never scrub or rub, as this actually works the spill deeper into the carpet fibers. For stains you can't remove, call in a professional carpet cleaning company, such as Jani-King, as part of your cleaning service.
Hire a Professional Carpet Cleaning Service
In the life of every carpet or rug there comes a time for a good, professional carpet cleaning. For most carpets, this is once every 12 months, more often in high-traffic areas or for lighter colored carpets or in compliance with the manufacturer's warranty. When considering a professional carpet cleaning service, look for a company that uses steam/hot water extraction only. Beautiful carpets beautifully maintained are a joy to behold and with proper care can remain a thing of beauty for us to enjoy for many years to come.