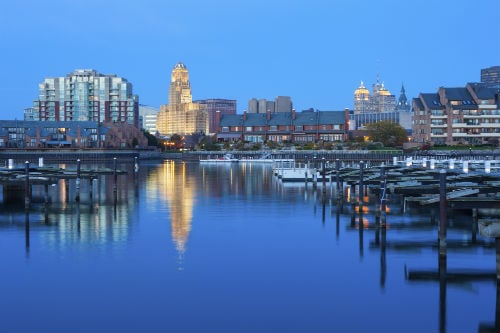 Job growth took a sharp turn upward over the past year according to The Buffalo News, a sign of good news for doing business in the Buffalo-Niagra region. Also recently reported was the increase in growth among the big auto dealership groups in Buffalo. Both of these are positive indicators that the economy is growing and that now is a perfect time to step up your game.
Whether you're looking for a new job or have the bold desire to start your own business in Buffalo, there are many opportunities available to those willing to go after their goals. One of the brightest opportunities for starting your own business is offered by Jani-King.  In business in Buffalo since July 1996, Jani-King provides business owners with complete training, support and even customers to get started.
Known for being an ever-growing industry, commercial cleaning offers endless customer locations to clean such as office buildings, hotels, hospitals, restaurants, car dealerships, manufacturing facilities and more.  In fact, Jani-King of Buffalo is the Official Cleaning Company of Ralph Wilson Stadium and the Buffalo Bills.
With so many potential customers and a growing economy, now is a great time to start a commercial cleaning business in Buffalo.