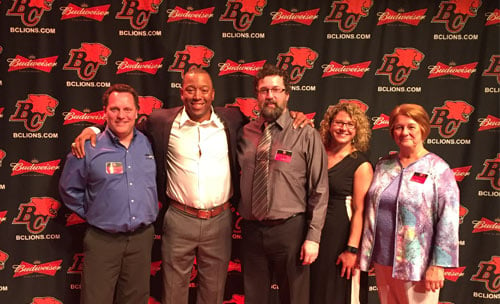 This May marks the 5th anniversary of Jani-King's participation in the annual Draft-A-Lion.
" When we got involved with this program back in 2012 we had no idea what to expect. Over the last 5 years we have had a chance to meet and get to know so many of the amazing players from the BC Lions," say Kevin Joyce, Vice-President of Jani-King Vancouver-Fraser Valley. " These players are role-models in our community, and we have been able to do so many amazing events as a result of our relationship with the Draft-A-Lion program."
Last night, the Joyce family attended the 5th annual Draft-A-Lion event and are excited to be working with BC Lion, Geroy Simon, this year.
" Geroy is a CFL legend, his contribution to the team and the city over the years has been wonderful. We cannot wait to work with him this season!" says Kevin.
Follow along on Facebook and Twitter for more details on this exciting program.