Kidding…Germ-Zapping Robot Joins Jani-King's Infection Prevention Team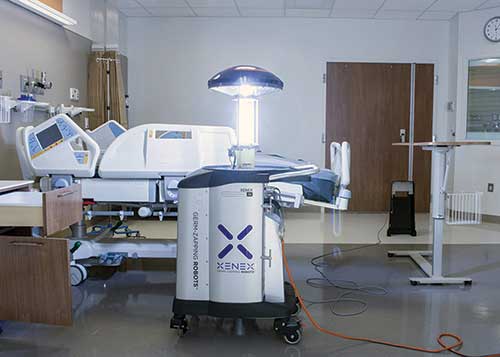 From doctors and staff to patients and visitors, hundreds of people enter a hospital daily, unknowingly escorting a host of contaminants and germs on their person. Enterovirus D-68, C. diff, MRSA, VRE – an alphabet soup of deadly pathogens lurk in the very place people go to get healthy.
In demonstration of their commitment to keep patients safe, Jani-King and Regency Hospital have taken an important step into the future to eliminate dangerous superbugs and stop the spread of healthcare associated infections (HAIs). The hospital is the first Long Term Acute Care (LTAC) facility in the Minneapolis region to procure a Xenex Germ-Zapping Robot to disinfect its hospital rooms, equipment and surfaces. At Regency Hospital, Jani-King is evaluating the robot's efficacy in a nine-month trial and anticipates promoting the results to demonstrate its value to other hospitals.
Jani-King's plan is to disinfect multiple priority areas including patient rooms, storage rooms, showers, visitor lounges, lobby and administrative areas, vending areas and hospital carts that are isolated in a room.
Harnessing powerful pulsed xenon ultraviolet (UV) light technology, the Xenex system efficiently destroys viruses, bacteria, mold, fungus and bacterial spores in just 5-10 minutes per room without contact or chemicals. Its intense broad-spectrum UV light penetrates pathogen cell walls, causing DNA to fuse instantly, rendering them unable to reproduce or mutate. The robot provides an extra layer of protection after the room has been thoroughly cleaned by Jani-King's EVS team because it is able to destroy hard-to-kill germs in hard-to-reach places. After cleaning the room, Jani-King teams position the Xenex device on both sides of the bed and in the restroom to eliminate 99.9 percent of dangerous contaminants. Each treatment cycle takes about five minutes, or an additional 10 minutes per room.
Xenex Germ-Zapping Robots are backed by published, peer-reviewed patient outcome studies from hospitals that experienced a decrease in infection rates after they began using Xenex robots for room disinfection. The robots do not use mercury bulbs (mercury is toxic) and that's good for the hospital as well as the employees who operate the robot.. More than 300 hospitals, VA and DOD facilities, surgery centers and skilled nursing facilities nationwide are using the system with the purpose of reducing rates of infection and saving costs. And it's safe. Because the light is extremely bright, the machine operates on its own once it's set up in a room. For enhanced safety, a sign placed outside the door warns people not to enter, and a motion sensor automatically shuts off the machine if someone should enter.
With Germ-Zapping Robots joining the EVS team, Jani-King is proud of its commitment to patient safety. Explains Mark Regna, Vice President of Healthcare Services at Jani-King International,
We already have a strong infection prevention program in place. The Xenex technology is an additive measure and will not replace our standard cleaning and disinfecting protocols. This robot is helping us be more effective at eradicating the microscopic superbugs that pose a threat to patients, their families and staff.