Jani-King Elevates Select Medical in Ohio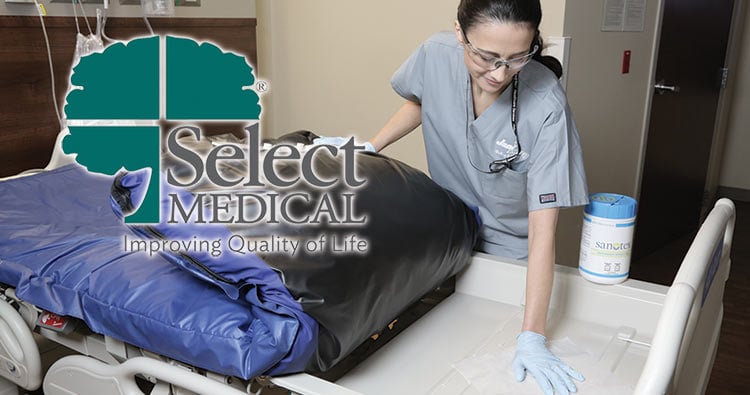 Jani-King of Cleveland is proud to have helped Select Medical in Canton to achieve the Hospital of Excellence Award. This is a prestigious award among Select Medical facilities and the efforts Jani-King franchisees and the Cleveland office have put forth over the past year played a key role.
According to Stephen Bartek, Director of Environmental Service Operations for Jani-King of Cleveland, he was confident from the beginning of taking over the account that Jani-King could get the facility on track.
"We had a comfort level from the start, somewhat due to the fact that I had spent four years with Select Medical in their EVS division," said Bartek. "Moreover, I knew we could deliver a clean hospital and dedicated people. The unit has performed exceptionally since we began service and HCAHPS (Hospital Consumer Assessment of Healthcare Providers and Systems) surveys have been consistently 80+, based upon data shared by Select Medical."
While franchise owners Stephanie and Larry Johnson have been outstanding, Jani-King's support system has also benefited the Canton facility and other Select Medical properties in Ohio.
"Stan Cox from Jani-King has been instrumental in the integrating of Jani-King into Select Medical," said Bartek. "Stan's attention to detail and work ethic have made our transition very easy and have set the customer's minds at ease
Select has made our staff feel like part of their team. We are fortunate to have staff members that go above and beyond our expectations on a daily basis.
Stephanie Johnson
Franchise Owner, Jani-King of Cleveland
from an infection control perspective and patient satisfaction perspective. One more thing that was so beneficial to our transition into Select, was the efforts of Charles Bates, Healthcare Operations Advisor for Jani-King corporate. Charles has been with us for two start-ups, both with Stephanie and Larry, and he has been the best to work with. We love Charles in Cleveland!"
Bartek goes on to commend the Johnsons by saying, "Stephanie and Larry have my eternal thanks for all that they have done as franchise owners. This achievement far exceeds anything I have experienced during my time with Jani-King. In essence, this is a big deal and I am very proud of Stephanie and Larry and their entire staff for their results at Select Medical Canton.
"Working with Select Medical has been both challenging and rewarding," said Stephanie Johnson. "Select has made our staff feel like part of their team. We are fortunate to have staff members that go above and beyond our expectations on a daily basis. This has been challenging because it's our first hospital. But it's so rewarding because we are doing a very important function for Select Medical and their patients. We have had great support from Jani-King operations as well as Select Medical's management team. This is what it takes to build a great partnership and lasting relationship. We look forward to continued success with Select Medical now, as well as, in the future.