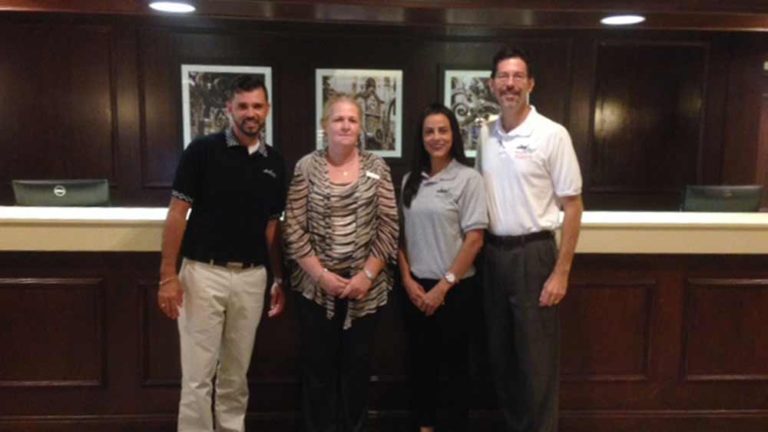 For nearly 10 years, Jani-King of Rhode Island tried persistently to squeeze their foot in the door with a local Sheraton hotel property. Finally, after almost a decade, changes in hotel ownership and ongoing struggles in the housekeeping department, the Sheraton opened its doors to Jani-King's service.
"A new general manager took over for the new owners of the property," said Gordon Hoover, Master Franchise Owner for Jani-King of Rhode Island. "They were really struggling to hire good employees and just couldn't recruit enough reliable people to staff the housekeeping department appropriately. I met with the general manager and he knew of our good reputation, and we had a good reference from a boutique hotel we have been servicing in Providence for several years. After meeting with him, he was ready to start with a supplemental housekeeping crew (six housekeepers, two laundry attendants and two housemen) from our franchise owner."
They are very happy with the quality of the work and it looks like our franchisees may get a stead stream of extra work from the account.Gordon Hoover
Master Franchise Owner, Jani-King Rhode Island
According to Hoover, the local franchise owner selected for this account, Douglas DeSouza and his wife Marcia Saiter, also service the boutique hotel and are the largest Jani-King franchise owners in Rhode Island. "They have deep roots in the Brazilian community, so they are able to locate employees," said Hoover. "The number of employees needed by our franchise owner for this account could be a challenge, but we also have a great reputation in the Hispanic community so our franchise owner was able to hire plenty of employees including several with previous hotel experience."
The Rhode Island regional office was able to get everyone trained for the account quickly, exceeding the customer's expectations. After several weeks of providing services, Hoover received an email from the hotel's general manager saying that service continued to go very well and that he is happy with the partnership. He then requested four additional housekeepers and another houseman to be added to the contract.
Hoover hopes to soon increase the account to include the entire housekeeping staff except for Director of Housekeeping and her two supervisors. The Rhode Island team and the head of housekeeping at the hotel have a strong relationship and she feels that the Jani-King crews are performing well.
"Mr. DeSouza has also started doing some extra work for the customer such as scrubbing ceramic floors and shampooing carpets," said Hoover. "They are very happy with the quality of the work and it looks like our franchisees may get a steady stream of extra work from the account."