The Jani-King of Houston regional office is growing! Wrapped up in community, tradition and history, the University of Houston and Aramark Educational Facilities of Texas, LLC, recently entrusted their facilities' cleaning services to Jani-King. With over 42,000 students, 2300+ faculty and a sprawling campus that sits on approximately 667 acres of land, the University of Houston is recognized as a flagship instituition.
In the true spirit of teamwork, Dallas' Regional Sales Manager, Ryan Nugen, recently partnered with our Houston office to begin planning for the new account. Mr. Nugen's persistence, networking, and follow-through quickly turned, what began as a small discussion of potential opportunity, into a reality for Jani-King. "I am always networking and building relationships," said Nugen. "Businesses do business with people they like and respect, and I pride myself on taking time getting to know our Jani-King clientele. They're a member of the Jani-King family too!"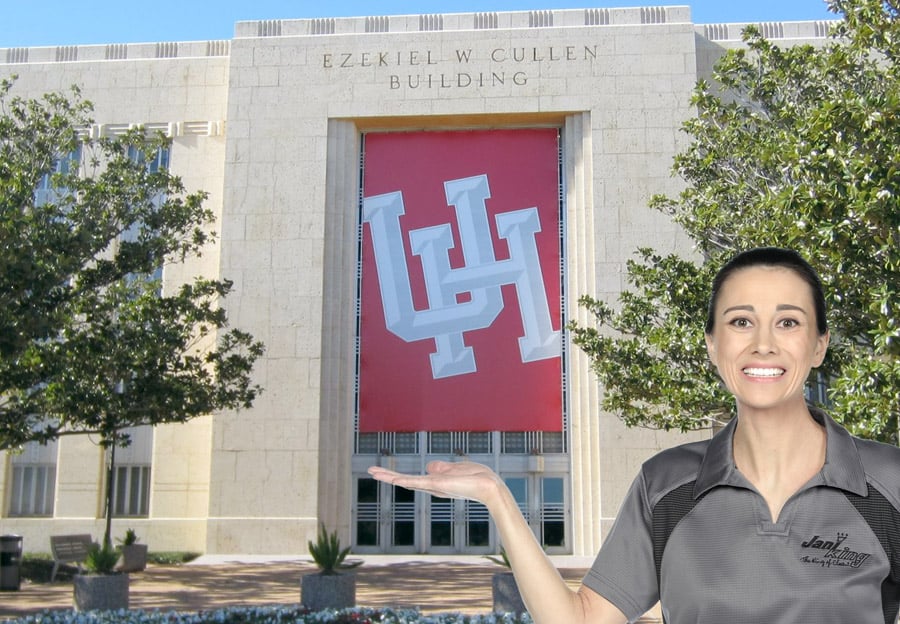 Through various text messages and email correspondence, Mr. Nugen's tenacity and follow through lead to the new opportunity. While having casual discussion with a current Dallas client, Nugen continued to inquire about new opportunities. In response, our client applauded Nugen's persistence and offered Jani-King the opportunity to bid. In fact, our clients' exact words were…"I really like your business ethics Ryan, and enjoy working with you and your team."
The University of Houston takes great pride in the image of their facilities; a very high standard in which our franchise owners and their clean teams are prepared to exceed. As they gear up to begin servicing the facility, many key regional office staff have also been working behind the scenes to prepare for the account.
"I am very encouraged by the amount of regional office staff and franchisees who've pulled together for this new account," said President, Steve Tapken. "We have administrative staff, Regional and Executive Directors, and our entire Client Relations division, providing ongoing support to our franchisees – exactly how it should be."
While our primary focus of services will be dining services, the Aramark has already began discussing expanding our services – given how satisfied they've been with us thus far. We are so thankful for the opportunity to grow our regions, but more importantly, to help our franchise owners grow their businesses.