In December Jani-King Gulf Coast gathered in Hammond, LA for Summit 2017 to focus on company goals, systems and procedures. From learning how to use our Oracle Sales Cloud application to exploring Namely, a socially infused human relations tool, we covered four days worth of valuable information that will make a big difference in the lives of our customers, franchise owners and employees. In this month's featured article we recap some of the week's key initiatives for the new year.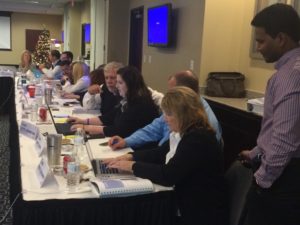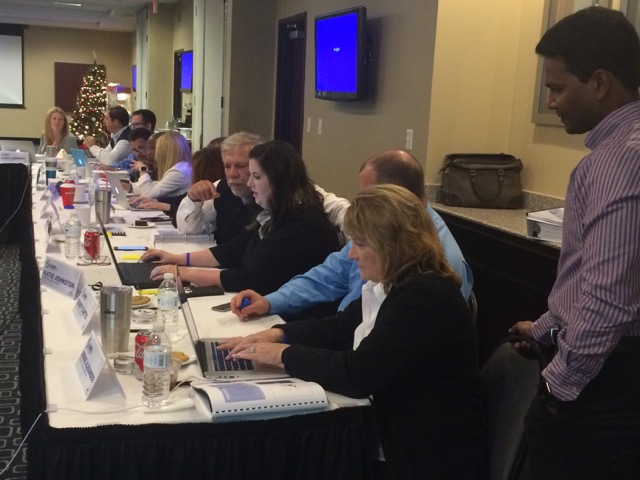 Making clear that we would begin 2017 with technological innovation, Summit day one and a large part of day two focused on Oracle training. Powered by Oracle, the Sales Cloud application was completely customized to fit Jani-King Gulf Coast's needs and provides a complex platform with enhanced features while also increasing efficiency and productivity for users. Notably, one feature rates the likelihood of a sale based on proven criteria while another feature reminds the sales team to take necessary steps in order to finalize a sale. This project has been guided by Chance Enmon and JJ O'Neil with assistance from members of our regional offices and will be supported by members of the Ponchatoula office. Additionally, Namely, our new human relations tool, a project guided by Becky Wilson, Casey Lambert, and Angelique Richardson, was revealed and put to good use as several attendees took advantage of its benefits enrollment portal, PTO management, and social network.
Day two covered sales with JJ O'Neil, Al Hebert, and Mike Robinson being the day's speakers. JJ and Al spoke on having the right game plan – that we have to begin with the end in mind, and the importance of preparation. Mike, Jani-King Gulf Coast Salesperson of the year, attributes not only his approach, but more importantly his relationships with franchise owners, to helping secure some of the benchmark accounts in 2016. He shared his keys to success which included really listening to a customer's needs and developing genuine, personal relationships past the initial sale. As Mike says, "It's harder to fire a friend, so don't be a stranger." Typically sales meetings focus on training to the fundamentals, and there was no shortage of that this year. Every discussion centered on how to improve people and processes so that we can provide consistent growth for our franchise owners in the coming year. Great things are expected from the room full of vibrant sales professionals who were sent back to their regions ready to go and
help our franchisees in 2017.
Day three of Summit focused on operations. Al Hebert, Ross Champagne, Mike Laylle, Randall Hithe, and Dominick Solito were the day's speakers. Randall spoke from the point of view of our franchise owners and bringing to light their needs and challenges while recommending how the regional offices and operations teams can better partner for their success and keep customers happy. Ross Champagne provided a deep dive into equipment, including production rates and the proper selection for account placement. Ross also introduced several new pieces of equipment while guest speaker Matt Richey leveraged his experience by providing tips and thoughts on equipment selection and performed hands-on training with several pieces he provided. The new pieces of equipment discussed were part of a larger introduction to new technology that Mike Laylle presented as part of him, Ross, and Dominick's visit to this year's ISSA/INTERCLEAN North America in Chicago. Most of the second half of the day included Al Hebert providing a step by step training and discussion on the new account offering and walk through process. As many realized, this seemingly simple step is critical to the success of the franchise/customer relationship, therefore the training created plenty of interaction that will benefit franchise owners in 2017. Covering just about everything from franchise support and coaching, to providing hands-on experience with the newest cleaning technology, the presenters left our operations team excited about how we can best support our franchises while bringing more consistency to the Jani-King brand.
Day four was the executive Summit. The core objectives for the day were mostly positioned towards internal business operations, but one overarching theme was that every discussion and initiative had the franchise owner's best interest in mind. Several key members of the Ponchatoula office discussed 2016's gains and missed opportunities while presenting goals and strategies for 2017: Mischappell Cordero-Sims discussed franchise sales; Tim San Fillippo presented on social media and digital marketing; Melissa Stanga and Angelique Richardson presented accounting and financial highlights; and Destin Sims recommended best legal practices within our industry. Lastly, each Regional Director presented their region's business plan which included 2016's highs and lows, while detailing the game plan for 2017.
Abraham Lincoln once said, "The best way to predict the future is to create it." In a word, Summit 2017 was in-depth and took the effort of a small army to plan and execute. Yet, this is only a snapshot of the goals, systems and strategies developed for the new year. However, the destination is clear, and Jani-King Gulf Coast has new and proven tools – game changers – for delivering on the promise of a prosperous and successful tomorrow. There has never been a better time to be The King of Clean, so let's get to work and continue looking forward – the best
has yet to come!