Milton Berle once said,"If opportunity doesn't knock, build a door." Jani-King of Southeast Mississippi not only built a door of opportunity, but ran straight through it when Alliance Health Center chose to award them their environmental services agreement. Located in Meridian, Mississippi, the center is a 154 bed, acute care psychiatric and substance abuse hospital that provides treatment for adolescents ages 12 through 17, adults with severe mental health disorders and a separate unit for depression, post traumatic stress and bi-polar.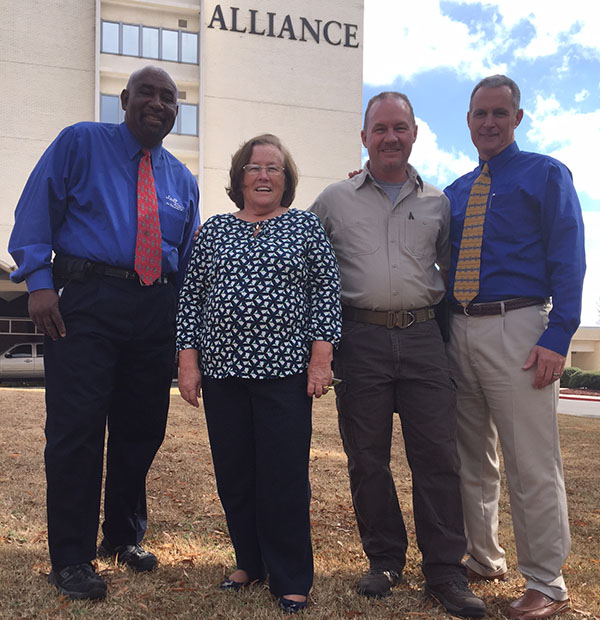 As exciting as this news is, what makes it all the more special is how it originated. Jani-King didn't cold call, run a radio spot or strategically place a billboard. Franchise Owner Walter Patton has a sister, and she is almost as proud of her brother as he is about his franchise. She works in the hospital's cafeteria, and last January she heard a rumor that the new CEO may or may not be seeking new environmental service bids because he was displeased with the work of his present contractor, one the hospital had been using for over 10 years.
She then reached out to Walter, who quickly contacted, Mike Robinson, Regional Director for Jani-King of Southeast Mississippi, and they got to work. A 4-month joint and highly coordinated effort between Mike and Walter finally led to a face-to-face meeting with the CEO in May, and a positive relationship soon developed between the leadership team at Alliance Health Center, Mike, and Walter. Together they discussed how Jani-King might best serve their needs, all of the hospital's desires, and an ambitious proposal was soon outlined.
Have you ever wanted that dream home, only to discover the true price? Or that incredible car, but realized what you wanted and what you needed were two different things? The same thing happened here. The price was too high, the deal fell apart, and there was no way it was going to work, at least not this year.
So, the team went back to work; Mike pulled together the Chevrolet version of the Cadillac proposal, Walter agreed to the changes, and they resurrected the deal. A one to one meeting with the hospital CFO quickly turned into an active negotiating session, and a deal was signed in late August.
Since October 1, Walter and his team of 8 full-time employees have been servicing the 120,000 square foot hospital and its patients with the special attention and diligence required by a mental health care facility. Going beyond dollars and cents, the relationship between the three parties continues to flourish and deepen, and has quickly moved from a business deal to something personal: the Jani King team truly cares about these patients and those who serve them, and it shows.
A deal of this size and nature requires an enormous amount of preparation and planning to effectively execute the operations. Walter and Mike did not, and could not, have done this by themselves. Each has expressed enormous gratitude for the extra resources made available for the start up of services, but they agree that without Ross Champagne, this would have been very, very difficult.
It's true, one who can be trusted with little can be trusted with much. Congratulations to the Jani-King of Southeast Mississippi Team, and thank you for reminding us that heart, dedication and opportunity are the keys to success!