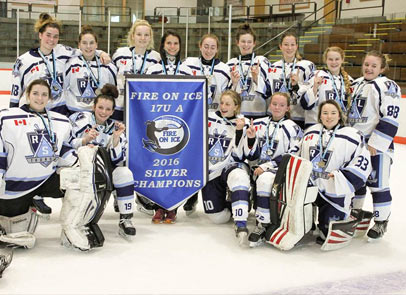 Jani-King's obsession with hockey goes beyond the Ottawa Senators; we also sponsor several local hockey teams.
At the recent Fire on Ice Girls Hockey Tournament in Rochester, New York, the Rideau St. Lawrence Thunder Midget A Girls Hockey Team won the U17-A Silver Division Championship. Despite some injuries and illnesses, the girls persevered with hard work and determination to capture the Championship.
A special shout out goes out to Jessica Pinkney who was injured in the Quarter Final game and taken off the ice on a stretcher.  Jessica is recovering well and is expected to return to action in the next few weeks.  Another congratulations goes to the newest addition to the Thunder team, Leah Fitzmorris, who, at the age of 13, scored her first Midget A goal despite only being with the team for just over a week.
All in all, a great team effort and team victory by every member of the Rideau St. Lawrence Midget A Girls Hockey Team.  Congratulations from your fans at Jani-King!