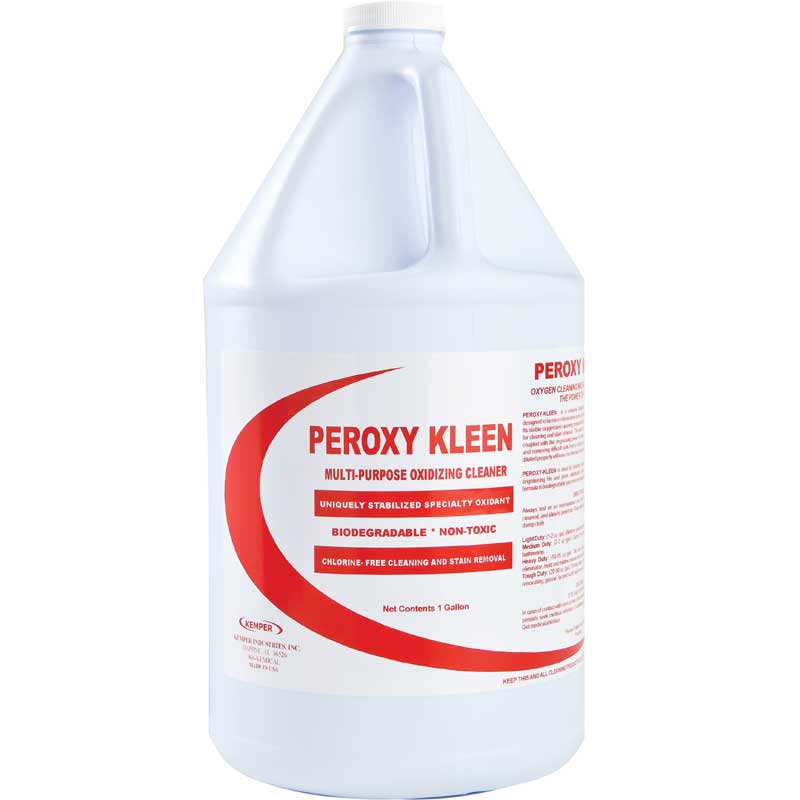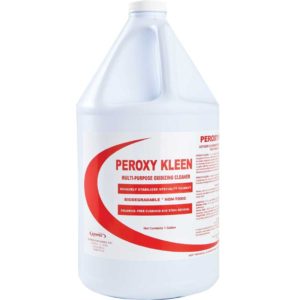 Is there anyone who does not remember when, as a child, their mother would bring out the brown bottle of hydrogen peroxide to treat scrapes and minor injuries?
The 3 percent solution of hydrogen peroxide in the brown bottle is still used today. Many find it helpful for whitening teeth, adding to laundry, spotting blood, spraying produce, spraying wet hair after showering to add highlights, and the list goes on and on.
As recognizable as that brown bottle was, the reason for its opaque color hints at one of the problems building service contractors encounter when adapting hydrogen peroxide for their purposes: Hydrogen peroxide is unstable when exposed to light.
Today, however, chemical manufacturers have been able to stabilize and enhance hydrogen peroxide by blending it in low levels with other safe ingredients to form what is generally called improved hydrogen peroxide. Although different companies offer different formulas with different instructions and cautions, there are some common benefits to improved hydrogen peroxide.
By adding different ingredients to low levels of hydrogen peroxide — sometimes as low as 1.5 percent — manufacturers have created a cleaning solution that improves upon the cleaning efficacy, efficiency and germicidal potency of hydrogen peroxide.
The products I am personally familiar with (Kemper Industries – Peroxy-Kleen) have helped franchise owners simplify their cleaning operations by removing the need for multiple cleaning chemicals. Hydrogen peroxide has also helped some franchisees improve their bottom lines by saving labor. They use improved hydrogen peroxide for daily cleaning of all types of floors, from high-gloss finished floors, to carpet and concrete.
Used regularly, some formulations can even keep grout clean. Do you remember the effervescence when your mother poured hydrogen peroxide on your scrape? That was the cleaning action of hydrogen peroxide, and improved hydrogen peroxide works similarly on cleaning surfaces when used daily.
Another benefit of improved hydrogen peroxide is that it neutralizes urine odor on contact. One vendor I know uses the same chemical product mixed in a stronger solution for top-scrubbing floors prior to recoating, and for pre-spraying traffic lanes when cleaning carpet and deep cleaning dirty grout.  Some cleaning products containing hydrogen peroxide actually neutralize old soap and detergent residues in carpet and seem to make the colors pop, improving customer satisfaction.
You may even find it easier to train frontline employees, because of the need for fewer chemical products.
Reach out to your local supply vendors and ask for a sample today! Happy cleaning!
Info on Kemper Industries – PEROXY KLEEN MULTI-PURPOSE OXIDIZING CLEANER
PEROXY-KLEEN is ideal for cleaning carpet and upholstery, cleaning and brightening tile and grout, eliminating odors and degreasing. Low toxicity formula is totally biodegradable and environmentally friendly.
ALL PURPOSE Mix 1-2 ounces per gallon of water for all purpose cleaning. Works great for wiping down counter tops and deodorizing at this dilution. Mix 8-10 ounces per gallon of water for deep degreasing of hard surfaces, floors and equipment. Leaves no chemical residue. Mix 8-10 ounces per gallon of water for cleaning stainless steel. Will not streak and leaves no oily film.
GLASS Mix 2 ounces per gallon of water for a great safe alternative to glass, window and mirror cleaning.
RESTROOM & GROUT CLEANING Mix 2-4 ounces per gallon of water for counter tops and bathroom fixtures. Mix 10-15 ounces per gallon of water. At this dilution you will have a strong cleaner and odor eliminator that poses excellent cleaning qualities.
CARPETS Add 4-6 ounces for odor elimination and deep cleaning or use by itself as an excellent carpet cleaner and brightener. Can be used to clean and eliminate odors caused by pet stains, food stains and other organic waste. Dilute 4-6 ounces per gallon of water and spray heavy traffic areas and stains.