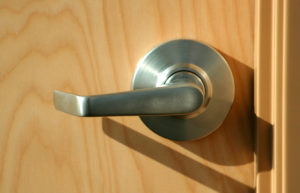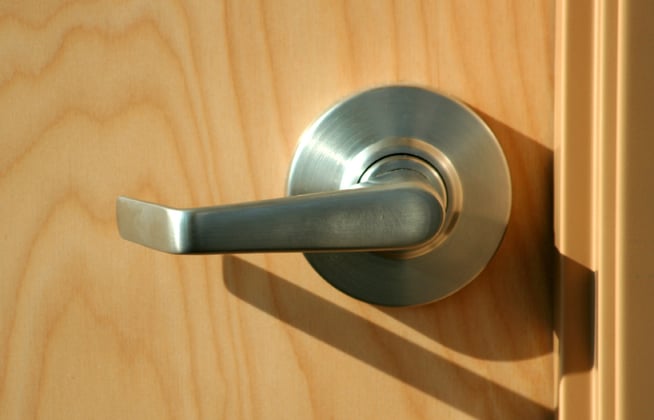 Doors are some of the most touched items that are attached to all buildings.  Every time someone goes in and out of the building, that person has to open and close the door.  If doors are dark, no visible fingerprints will show up, but the dirt will still be there. Since it is such a high touch area, it will be prone to bacteria and viruses that could spread among everyone who touches the area.
To clean the doors, you do not have to do too much.  All that is needed is disinfectant cleaner and microfiber cloth.  Spray disinfectant on the cloth, and wipe door surface.  If there are really dirty spots that just refuse to come off, try a soft pad or soft brush.  Using a pad or brush with disinfectant cleaner should lift the dirt right out.  Just make sure not to brush so hard that paint is not removed.
While cleaning the doors, make sure to hit one of the most often missed dirty spots, the top edge of doorframe.  If you do a white glove test up there, you may find dust from not cleaning the non visible area.
One place that you also want to be very careful to consistently clean well is the doorknob and the area where people most often touch.  Since this is where so many hands go, it is a great place for germs to dwell and move from person to person.  Consider using a disinfectant or an antibacterial spray or wipe to clean it down.  Doing this during the flu and cold season is especially important since so many people are prone to getting sick.
Disinfecting doesn't just remove the germs – it kills them.  A thorough cleaning with a proper disinfectant and antibacterial product will kill these germs completely.
At Jani-King, improving the quality of indoor environment is something we take very seriously, so we are cleaning the environment one building at a time.  Indoor environments have a significant impact on human and environmental health, learning outcomes, and productivity.