JANI-KING FRANCHISE OWNERS ARE IN FULL SWING WITH NEW AND CURRENT BASEBALL PARTNERSHIPS
We are so fortunate to be partnered with some of the most prominent  minor and major league baseball organizations in professional sports. As the bats are getting hot and the arms are warming up, Jani-King franchise owners are also preparing to swing for the fences. The service they provide is key to sustaining continued relationships as well as generating new.
Besides our long-standing partnership with the Texas Rangers, we're proud to announce that our Fort Worth and Houston regional office recently secured new partnerships with two minor league baseball teams –  the Texas AirHogs and Sugar Land Skeeters.
Cleaning a baseball facility is nothing to be taken lightly. Logistically, it takes a small army to handle the demand during a live baseball game. Jani-King is always prepared to knock it out of the park!
GLOBE LIFE PARK IN ARLINGTON – Texas Rangers (MLB)
Completed in just 23 months, Globe Life Park in Arlington is a state-of-the-art building with the utmost in customer convenience. Yet, the 48,114-seat open-air ballpark was designed and built with tradition and intimacy in mind, containing features such as a granite and brick facade, exposed structural steel, an asymmetrical playing field, and a home run porch in right field. Texas architecture is featured throughout, from the outer facade to the Lone Stars in the concourses and on the seat aisles. Globe Life Park in Arlington contains approximately 1,400,000 square feet. The ballpark measures 114 feet from street level to the top of the roof canopy.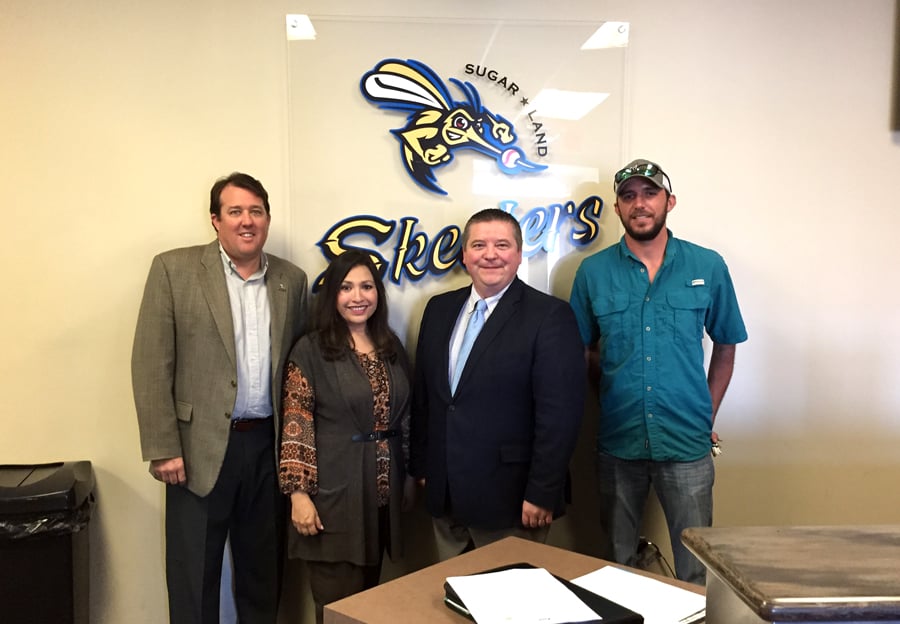 CONSTELLATION FIELD – Sugar Land Skeeters (MiLB)
Constellation Field is a baseball park located in Sugar Land, Texas. It is the home of the Sugar Land Skeeters of the Atlantic League of Professional Baseball that began play in 2012. The park also has the ability to host football, soccer, lacrosse, and cheer-leading competitions, as well as concerts. Constellation Field has a capacity of 7,500 spectators for baseball games, and 9,500 spectators for concerts. Constellation Field has one of the largest scoreboards in minor league baseball. It is also unique in that its shape resembles Texas' borders. The scoreboard, constructed by TS Sports, rises almost 100 feet above the playing field. Additionally, Constellation Field has a traditional, manually operated scoreboard in the left-field wall.
AIRHOGS STADIUM – Texas AirHogs (MiLB)
AirHogs Stadium is a stadium in Grand Prairie, Texas for the American Association's Texas AirHogs. The ballpark has a capacity of 5,445 people for baseball games and opened in May 2008. In addition to baseball, the park plays host to various other concerts and events throughout the year. For a period of time, the stadium was known as QuikTrip Park due to the sponsorship by the convenience store chain. In 2015 the city of Grand Prairie paid off the debt to build the stadium.