This past month, the city of Dallas hosted the 2017 Jani-King Annual Convention and Awards Banquet. Master Franchise Owners and Regional Director's from all over the world gathered to celebrate the successes and accomplishments, both regionally and company-wide.
The 3-day event began with two days of 'General Session' where a wide array of new sales and marketing tools and updated information were shared by Jani-King's corporate team. The theme of the event centered around 'Leadership First' and challenged each person in the room to reflect upon their personal leadership skills.
To ensure that we continue to be a successful business model for current and future Jani-King franchise owners, Mr. Jerry Crawford, President & CEO of Jani-King International, summarized it best for the leaders of Jani-King – "Reliable leaders take action."
"Leadership can motivate, influence, inspire, empower, and drive a Jani-King regional office team to grow beyond the imaginable," said Crawford. "As our industry continues to evolve, our leaders are highly encouraged to take action and continue to evolve with it."
To further highlight the 'General Session' portion of the convention, attendees were treated to two special guest speakers, IFA President & CEO, Robert Cresanti, and business consultant and prolific author, Lee Colan. Both guest speakers were extremely influential and inspiring, with Mr. Cresanti focusing on unity in the world of franchising, while Mr. Colan spoke to the importance of leadership, communication, and coachability within Jani-King regional offices.
To cap off an amazing two days of 'General Session,' attendees were invited to an awards banquet the following Saturday; celebrating the prior years' achievements. The theme of 'Through The Looking Glass' was extremely well executed and very impressive, to say the least. From life-size props to the incredible visual effects, guests were immersed into a magical evening of celebration.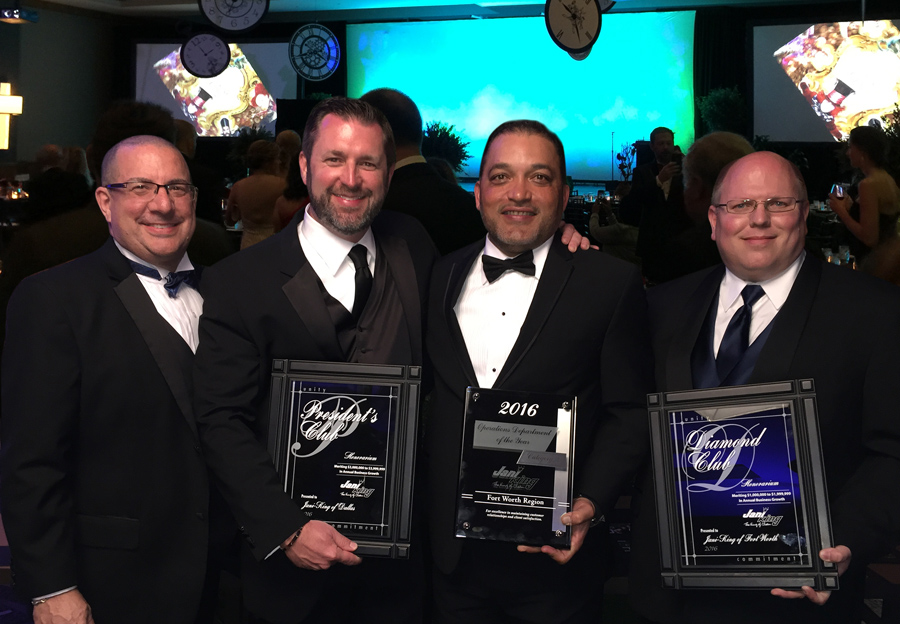 Collectively as a company, the evening was filled with many successes. We are so proud of the many Jani-King franchisees, as well as our regional office leadership, who've lead the way to our growth and success.
Our Dallas and Fort Worth regional offices were recognized for three amazing achievements:
Congratulations to Jason Furrow, and the Fort Worth regional office, for being awarded 'Double Diamond' and 'Operations Department of the Year' (Category II) and to Charles Oney, and the Dallas regional office, for being awarded the 'President's Club' award! We are extremely grateful to the many Jani-King franchise owners who continue to chase their dreams and grow their businesses. These awards are a testament to your dedication to the Jani-King brand. Congratulations to everyone!