Jani-King Gulf Coast Gets Behind Comic Relief's Red Nose Day
Millions of children live in impoverished conditions around the world. By ourselves we may be able to help a few in our local areas, but by getting behind an organized movement we can achieve much more. That's why Jani-King Gulf Coast is participating in Comic Relief's Red Nose Day, 2017. To date, the fundraiser has raised over $1 billion globally for necessities such as meals, vaccines, clean water, education and shelter. In 2016 alone, 2,659,642 children were impacted across all 50 states and numerous communities worldwide.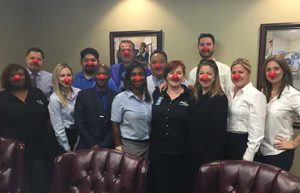 Spearheaded by Becky Wilson (GCR, Payroll & Human Resources Administrator) and Tim San Fillippo (GCR, Communications Director) Jani-King has been participating in the fundraiser in 2 ways. Wilson has been visiting several regional offices where she has been sharing information about the event, distributing official red noses (the purchase of which benefits the fundraiser) and taking pictures of staff members wearing red noses. San Fillippo has been pushing out the regional red nose pictures on the company's social channels with the purpose of encouraging Jani-King followers to visit the official Red Nose Day website – www.rednoseday.org – and donate.
"Childhood poverty is no laughing matter," says San Fillippo, "but Comic Relief makes it easy and fun to make a difference in a child's life. Additionally, I'm proud to be a part of an organization that wants to help people in need and aims to leave a legacy beyond brand building." Wilson adds, "As I visited some of the regional offices this week, and presented the noses to the employees to wear, I received some crazy looks, as we all tend to get in our own routine and comfort zone. But it was a fun experience acting silly for a moment, and also very humbling knowing it was to help support such a great fundraiser that the Comic Relief Fund has organized."