Home is where the heart is, and Jani-King of New Orleans has a lot of heart for the Big Easy. On Saturday May 14th, Jani-King franchise owners, regional staff, and customers participated in the French Quarter Business Association's 4th Annual Graffiti Cleanup. Sponsored by the TV show, NCIS: NO, the event is part of an ongoing citizen-based action plan to eradicate graffiti from the Vieux Carre.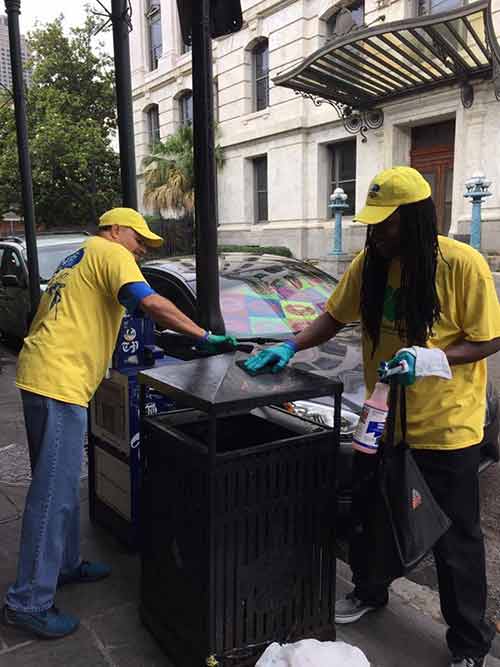 This event not only joined our Regional Office leadership and team members with those businesses and executives involved with the FQBA, but also allowed them to meet some of the outstanding Franchise Owners that we work with. It's very powerful for small business owners to meet our Franchise Owners so they know who is doing the great work under the Jani-King Brand. These meetings and volunteer events are a fantastic way to bring our Jani-King concept to life for the public. It's People, Pride and Performance in real time, at a real event, for real people, for a real cause!
Knowing that graffiti adversely affects quality of life and public perception, Jani-King provided commercial grade cleaning to remove graffiti and stickers from trash bins, street poles, buildings, newspaper stands and other objects along the French Quarter. But as much as they gave the city, it gave back even more. About the event, franchise owner Kirby Souvinette says, "I had a good time, and I want to do it again." Donald Smith (another New Orleanian Franchise Owner) said, "I had fun out with my Jani-King Family."
The FQBA was thrilled at our turnout and impressed with the work that our team accomplished in a short period of time. We were able to show them all aspects of our business through the involvement of the regional office in conjunction with great Franchise Owners working together to accomplish a goal. These are unforgettable moments and a GREAT sales point as we continue to grow our customer base in the area.
Jani-King's involvement with the FQBA does not stop with one event. Jaime Lambert, New Orleans Regional Director, is an active member. This group of business owners and vendors from within the French Quarter has built a strong network that they utilize to develop the businesses within the French Quarter as well as the attitude and atmosphere surrounding the entire area. They work together to promote business openings, activities and events to strengthen the French Quarter as a whole, which affords us the opportunity to meet these business leaders and put our Brand directly in front of them.
Opportunities like this are available in all regions – all we need to do is find them and choose to get involved. What is going on in your city? Your community? These are great opportunities for us to help the areas in which we live and work, while communicating to the public who we are. Bring the opportunities that are important to you to your Regional Office and discuss how we can continue to work together to show everyone who we are as a company, business owners and people!
Tim San Fillippo, Communications Director | Gulf Coast Region