Efficiency is one of the most important parts of any business because it means that employees are completing tasks quickly and correctly. As in any task, cleaning is another job that benefits from efficiency. Fast but thorough is the name of the game when cleaning commercial and industrial facilities.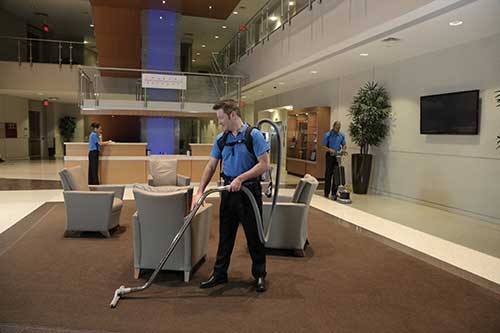 Proper Commercial Cleaning Equipment
Providing your team with the proper equipment to do their jobs quickly and correctly is essential to their success. If your cleaning crew has to clean a 10,000 square foot lobby every evening with a mop and bucket, it's going to take them a long time. A commercial auto-scrubber, however, will require a fraction of the time, leaving them with more time to clean the rest of your facility. In this case, you will have to make an upfront investment for the equipment, but it will lead to savings in the future. Proper equipment and placement can drastically impact the level of cleaning.
Proper Commercial Cleaning Chemicals
Training is essential for cleaning with chemicals.  I'm sure you've witnessed chemicals being wasted or used improperly at some point. By standardizing and harmonizing the range of cleaning products, you can achieve savings through simplified training, less waste, reduced transportation and storage costs, as well as a reduction in administrative work and costs.
Specifically, super concentrates are a good choice because they can replace ready-to-use and standard concentrates. If used through
an automated dilution system, you will increase employee safety while reducing unnecessary overdosing and therefore save on the actual product cost. Dilution control systems or metered chemical packs will put money in your pocket and not down the drain.
Frequent Site Visits
You feel your staff has been trained in accomplishing the scope of work, using proper equipment, and chemicals. When was the last time you observed them? Be proactive with ongoing visits and coaching teams on efficiencies to "get in, get out". A systematic approach to cleaning helps improve cleaning effectiveness, eliminates wasted time, and minimizes or eliminates stops and starts. The stops and starts that come with standard cleaning can cause staff to lose time, motivation, and concentration. This will reduce efficiency and affect the quality of work.
Coaching makes the difference in winning and losing.  It must be thorough and done well.
Dominick Solito, Training Director | Gulf Coast Region