Our 'Franchise of the Month' for May are Fort Worth franchise owner(s) (from left to right) Andre and Nichol Young, Crystal and Charles Robinson, Howard Turner, Tony Lafarga, and Monte Mayo.
Globe Life Park is an enormous facility that requires and even more enormous effort on the part of those responsible for its' cleanliness. Fortunate for the Texas Rangers and all of their fans, Jani-King is batting a thousand. With the collective efforts of our regional office, franchise owners, and their staff, we've completed 29 games of the long 81 home-game season. Jani-King franchise owners and their cleaning teams have taken care of the stadium in all weather conditions, picking up and removing tons of trash and recyclables from the stadium.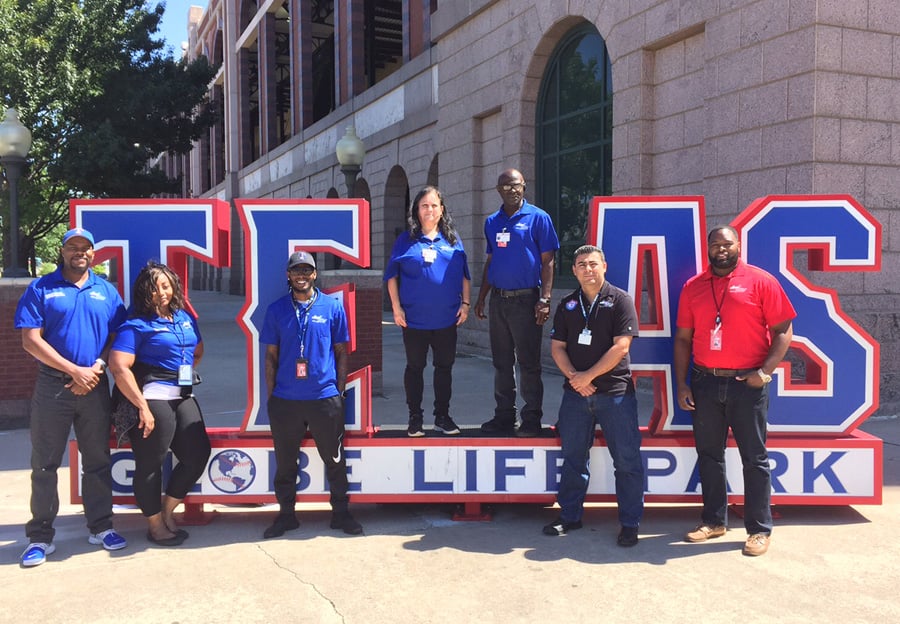 "We are so pleased with how well the 2017 season has gone thus far here at Globe Life Park," said Fort Worth Regional Director, Jason Furrow. "There's nothing more rewarding than to see small business owners, like Jani-King franchisees, bring out the cleanliness of the ballpark after a MLB baseball game. They take so much pride in this partnership and work extremely hard to keep the ballpark clean."
The most recent challenge faced by this starting lineup was cleaning up after a 10-game home-stand. It can be extremely daunting to turn over a facility after back-to-back home games, so just imagine the enormous challenges associated with 10 games. Without fail, these big hitters pulled together as a team and delivered an exceptional performance.
It's easy to see why these franchise owners, along with their team clean members, are deserving of this recognition. Jani-King is fortunate to have some of the best franchisees in all of franchising and we thank them and their clean teams for swinging for the fences at Globe Life Park.