During tough times, a community tends to rely on certain relief organizations. However, when a large natural disaster strikes, those who would normally be our shoulders to lean on often require as much support and hope as our next-door neighbor. On August 13, 2016 rising waters flooded several Louisiana communities including East Baton Rouge, Central and Denham Springs. Among the many forced to shut its doors because of flood damage was the Greater Baton Rouge Food Bank.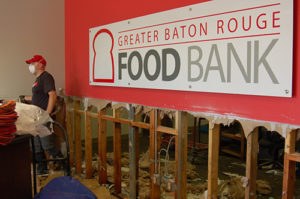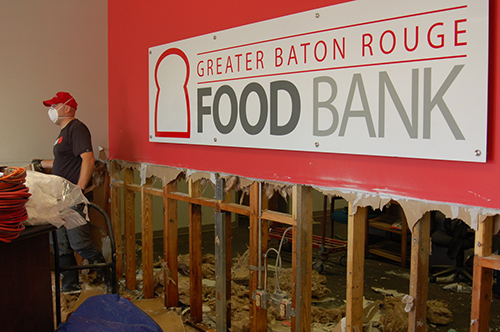 Determined to continue its mission, to feed the hungry in Baton Rouge and the surrounding parishes by providing food and educational outreach, the food bank celebrated the grand reopening of its administrative offices with a ribbon cutting ceremony on July 28th, almost one year after the August flood. The following Saturday it held one of its largest outreaches to date where over 90,000 pounds of food were distributed to more than 900 households.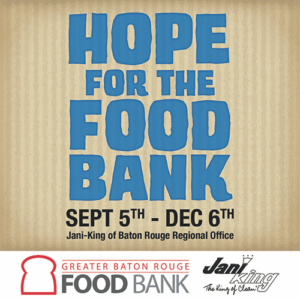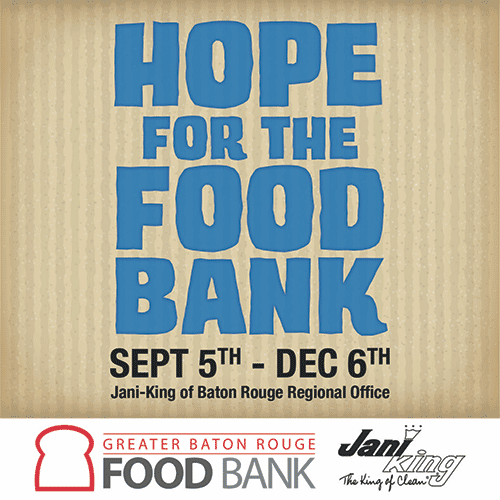 Recognizing an opportunity to not only help area families but to also show our appreciation for The Greater Baton Rouge Food Bank, Jani-King of Baton Rouge will hold a 3-month long food drive. Our goal is to collect a sizable amount of nonperishable foods for the Holiday season and to help raise the food bank's awareness among the Baton Rouge business community.
Jani-King employees, franchise owners, customers and others are encouraged to donate. "We have an opportunity to show our community that we are better together and can rely on each other in times of need," says Lisa Pino, Jani-King Gulf Coast Executive Regional Assistant, "so please join us in supporting this wonderful and deserving cause."
Donations will be collected from September 5th to December 6th at the Baton Rouge Regional Office located at 13702 Coursey Blvd. Building # 8, Suite B, Baton Rouge, LA 70817.
Suggested Food Items:
canned vegetables
canned soup
canned fruit
instant potatoes
spaghetti sauce
instant Jell-O
instant pudding
pancake mix
canned tuna
flour
ketchup
canned meats
peanut butter
jelly
canned pork & beans
boxed mac & cheese
spaghetti
pasta and egg noodles
cereal (hot or cold)
rice
fruit juice