Jani-King International is pleased to welcome 2007 NFL Hall of Fame inductee, Thurman Thomas, as a national spokesperson for the company. Thomas, his wife Patti and their longtime friend and business associate, Cheryl Green, recently became Jani-King of Buffalo franchisees (Gold Jacket 240, LLC) and are already making a positive impact at the valuable KeyBank Center contract.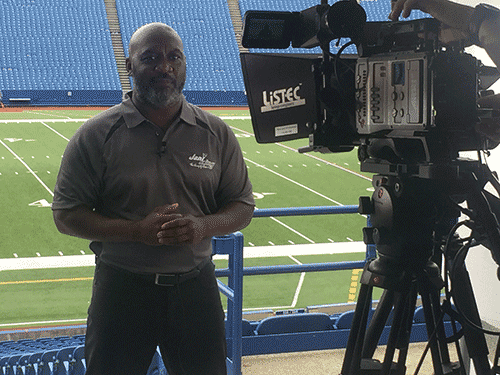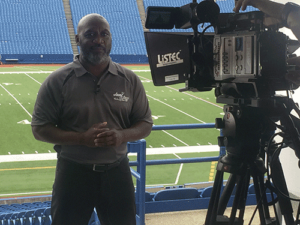 "The group at Gold Jacket 240 (a reference to Thurman becoming the 240th member of the NFL Hall of Fame) was instrumental in meeting customer requirements with the Buffalo Sabres through their extensive relationships in the market and access to new labor sources needed for the account," said Mike Biggs, Executive Director of Sports Partnerships & Business Development for Jani-King International. "Patti and Cheryl both grew up in Buffalo and have deep relationships to the business community and many organizations that help place people in jobs. Thurman is not just a known name slapped on a business, but also hands-on with their many business relationships and opportunities.
"They are a great addition to the Jani-King family of franchisees and will certainly bring a lot of new opportunities to the region and nationally."
As part of their franchise purchase, Thomas has agreed to become a spokesperson for the company in a two-year agreement. The ex-Oklahoma State and Buffalo Bills running back will be filming a TV spot, radio ads and social media spots for Jani-King International and Jani-King regions to use. In addition, he will be making appearances on behalf of the company throughout the term of his contract.
"Recently, my wife and I, along with our business partner, became Jani-King Franchise owners thanks to an opportunity made aware to us from our friends Mike and Tiffany Biggs (Jani-King Master Franchise Owners)," said Thomas. "We knew from our relationship with the Biggs', what an outstanding company  Jani-King was and that made for an easy decision to become franchise owners. We are eager to grow our Buffalo based franchise and run a diversified operation that employs western New Yorkers. We are confident that our franchise will be a success."
Thomas ranks ninth in all-time yards from scrimmage in the NFL and 15th in all-time rushing yards. He was instrumental in the Buffalo Bills remarkable four straight Super Bowl appearances in the 90's; and the key cog in their "No Huddle" offense due to his threat as both a receiver and a runner. In 1991, he became just the 11th NFL player in history to amass more than 2,000 all-purpose yards en route to NFL MVP honors.
He led the AFC in rushing yards in 1990, 1991 and 1993; is the only player in NFL history to lead the league in total yards from scrimmage for four consecutive years; one of only six running backs in NFL history to have over 400 receptions and 10,000 yards rushing; and one of only five running backs in NFL history to have rushed for over 1,000 yards in eight consecutive seasons. He is the only running back among the NFL's top 10 leaders in number of all-time postseason receptions.
While at Oklahoma State, he led the then-Big 8 conference in rushing and scoring in 1985 and 1987, and was the conference offensive player of the year both times. He was a first team All-America selection in 1985 and 1987, and was inducted into the College Football Hall of Fame in 2008.
"Thurman's playing stats speak for themselves and his ranking as an all-time NFL great is cemented forever," said Biggs. "But there is a lot more to the man. He's an incredible father, husband, friend and cares deeply about others and helping them to achieve their greatest potential. He will be a great representative for Jani-King and certainly succeed with Patti and Cheryl as a franchise owner in Buffalo."