Has your home or office recently been impacted by flood waters in the New Orleans area?  Are you left wondering, "What do I do now?"  Remember some very simple steps: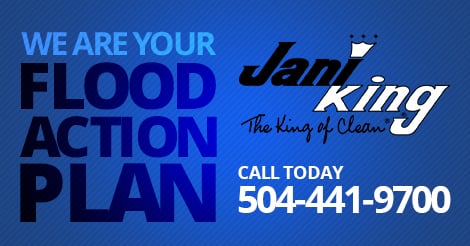 1 | Safety First
Do not enter a facility or building that could possibly have exposed electrical currents or gas leaks.  It is important to always wear Personnel Protective Equipment (PPE'S)
2 | Assess the Situation
Make sure the building is still structurally sound.  Determine if any roof damage or structural damage will prevent future water intrusion.
3 | Determine a Plan of Action
Will you be able to remediate the facility personally, or do you need to call a professional?
Time is of the essence after a water related catastrophe.  After the waters have receded, moisture is left throughout the building which can lead to an abundance of mold growth which can be extremely dangerous to your health.  According to the U.S. Department of Housing and Urban Development Mold is defined as follows:
Mold:  Molds are a type of fungi. They serve as nature's recycler by helping to break down dead materials. That's a good thing in nature, but not in our homes and bodies. Molds produce tiny spores that float and spread easily through the air. Live spores act like seeds, forming new mold growths (colonies) when they find the right conditions – moisture, nutrients and a suitable place to grow. Of these, moisture is the key factor – for growth and for control. That means the solution to mold control is moisture control.
Mold growth begins on materials that stay wet for about two to three days and can multiply rapidly. After a wetting event, rapid drying can prevent a mold population explosion. When that's not possible and mold growth has occurred, it's still important to deal with it as soon as possible using safe and effective methods
Last year during the Baton Rouge floods, Jani-King was called on to help not only many residential clients, but major Environmental Service Facilities (Ochsner), Financial Institutions (Florida Parishes Bank), and the Tangipahoa School System. We are fully equipped with the necessary tools to make sure your facility is returned to a clean and safe environment.
Give Jani-King a call – (504) 441-9700. We are capable and ready to help get you up and running again.