Jani-King of Hawaii is proud to announce their largest account signing to date; Pearlridge Shopping Center. As the largest enclosed shopping center on the main island, there is over 1.3 million total square feet included in the shopping complex and Jani-King is contracted for all Pearlridge properties.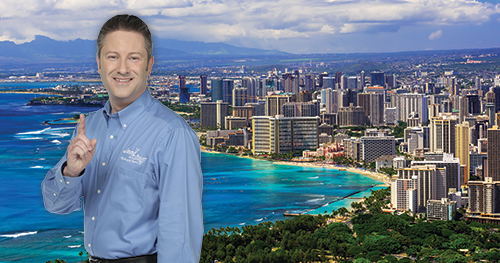 "Our team has been working relentlessly to secure this shopping center and we're excited to have finally been awarded the contract," said Mark Pennington, Master Franchise Owner for Jani-King of Hawaii. "There is over 700,000 square feet of retail space alone and the new owner of the property is planning to invest $33 million in additional renovations."
According to Pennington, Jani-King was selected over their union provider based on the performance of the Jani-King franchisees that clean the parking lot and American Savings Bank building. "They love the Jani-King concept," exclaims Pennington.
Built in 1972, Pearlridge was constructed through three phases. The properties consist of two major shopping areas; one is Pearlridge Uptown and the other is Pearlridge Downtown. There are also two minor strip malls, Pearlridge East and Pearlridge West. To connect the properties, Pearlridge has the only monorail system in Hawaii which offers expansive views of Hawaii's iconic Sumida Watercress Farm and historic Pearl Harbor. The venue is also known for its signature family events and farmers market, and is home to more than 250 popular dining and entertainment options.
According to the property's ownership group, Pearlridge is their flagship mall and produces the highest revenue.
This is the second major shopping and dining center that Jani-King of Hawaii has secured. Last year, the region signed Shirokiya Japan Village Walk, a premier shopping and dining center showcasing a traditional Japanese town reminiscent of old Kyoto.