Let me tell you about our Mississippi Coast Franchise Owners – they truly work as One Team with One Vision. When Jim Fox, a fellow Mississippi Coast Franchise Owner, was backed against the wall, we put out a call to our Franchise Owners for help. So many of you answered – THANK YOU for stepping to the plate!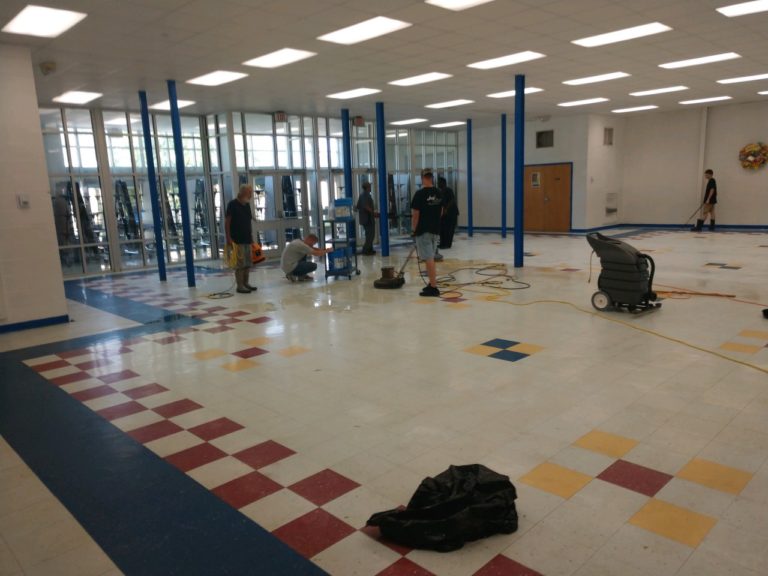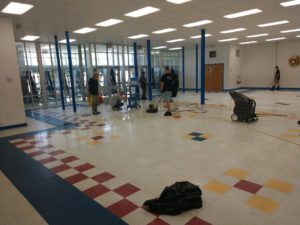 The floors at Stone County Elementary School hadn't been stripped in (probably) 10 years or more. There were literally 20+ coats of wax and wax-covered dirt on the floors, and each had to be stripped at least 6 times in order to remove all the built-up wax and dirt.  To further complicate things there was NO air conditioning in the halls, so we had to turn on the air conditioning in the classrooms and open the doors just to have any cool air moving through the building. However, the air conditioning system was programmed to shut off after a room had been unoccupied for two hours which meant that we had to continue to turn it back on throughout the day. To make things a little more "fun" and interesting thunderstorms lasted all day Saturday and knocked out electricity several times (once for over three hours). With no power, the school became a humid hot box, but Jim and his crew of trusty volunteers pressed on because they knew they had a deadline to meet.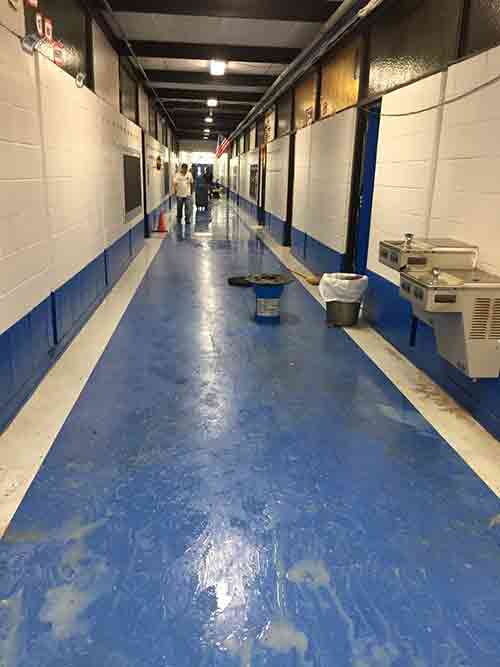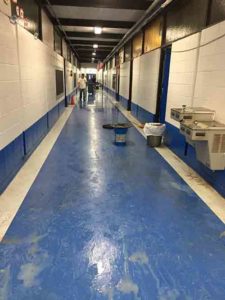 Eddie Willis (E&M Willis, Inc.) volunteered on Saturday to offer his time and experience. He arrived bright-eyed and bushy-tailed and got to work refinishing the floors. Prior to becoming a Franchise Owner, Eddie directly supervised the Mississippi Coast Coliseum maintenance crew for years, so he was a valuable addition to the volunteer team.
Hiram Wells (The Wells Group, LLC) also showed up on Saturday to put his floor care skills to work for several hours, giving the project a head start. Even though he didn't come to Jani-King with floor experience, he has had many accounts that were nothing but floor work, and put every bit of his training and experience to use and even came back on Sunday to loan Jim equipment.
When Dionne and Alton Franklin (D&A Enterprise, LLC) got to the job site they came dressed and ready for work. Having serviced the Jackson County Headstart School in Vancleave for a couple years their experience stripping and waxing floors was greatly appreciated.
With a fleet of equipment and crew of 5 to 6 people at the job each day, Andy Snyder (A&A Enterprises, LLC) came ready to work and everyone knew it. They went at it diligently from early morning until nearly midnight or later. In fact, they ran their equipment to the point where two of their side by side machines burned up. And while Andy had other projects of his own to finish, he diverted resources to make sure that Jim was taken care of. Why such a committed effort? Andy recognized that Jim Fox, over the last 15 years or so, had done so much for so many in the region – from training and loaning equipment to helping other Franchise Owners with no expectations of getting paid. Andy simply wanted to repay Jim for his commitment and generosity.  With this kind of respect and appreciation for others, it's no wonder why so many Franchise Owners have their sights set on being like Andy.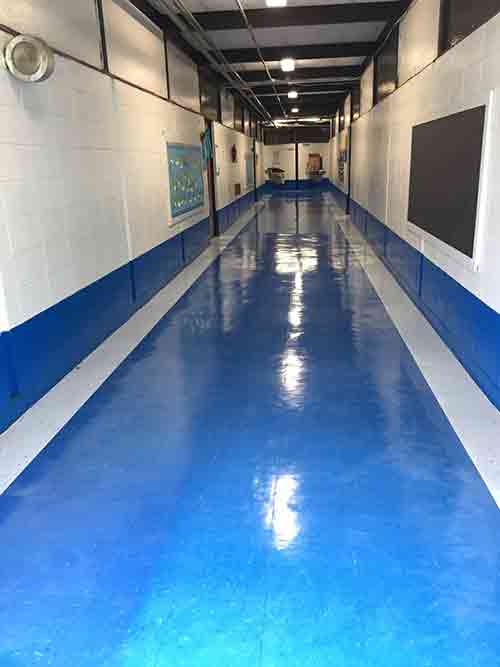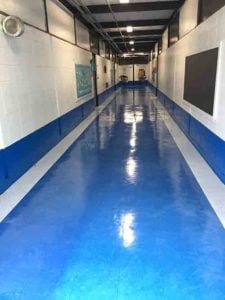 Two other franchise owners, who wanted to volunteer but were unable to come because of their own customer commitments were Shea Hanshaw (Hanshaw Enterprises, LLC) and John Kentzel (J Kentzell2, LLC). However, despite their own workload, Shea loaned his FM810 orbital scrubber, which makes pretty short work of a strip and wax job, and John loaned 13 air movers to help keep the crew a little cooler to make the wax dry quicker.
Thank you all again for coming together to show that in Mississippi Gulf Coast…we are One Team!