One of the nation's biggest cleaning brands, Jani-King has selected a new innovation from the Professional division of SC Johnson, recognized for making well-known consumer brands for more than 130 years.  Jani-King of Dallas, a Master Franchise location under the Jani-King International brand, recently struck a deal with SC Johnson Professional to fully adopt their innovative cleaning technology, the TruShot Mobile Dispensing System, in their local market.
This revolutionary cleaning system will first be introduced to Jani-King's entire family of franchise owners in our Dallas market who will then deploy it to two of our biggest local accounts; AT&T Stadium (Arlington, TX) and The Star (Frisco,TX), home to the Dallas Cowboys. "We're so confident in the new TruShot™ Mobile Dispensing System, by SC Johnson Professional, that we're willing to put it to work in our most prestigious accounts…AT&T Stadium and The Star," said Executive Vice President, Charles Oney. "Jani-King franchise owners are going to love this!"
"As the trusted commercial cleaning provider to AT&T Stadium and The Star, as well as 'The Official Cleaning Company of the Dallas Cowboys,' our decision to utilize SC Johnson Professional products and to adopt their innovative mobile dispensing system makes good business sense for everyone involved," said Jani-King of Dallas President, Steve Tapken. "The efficiency and simplicity of this entire system goes way beyond anything Jani-King has ever seen before."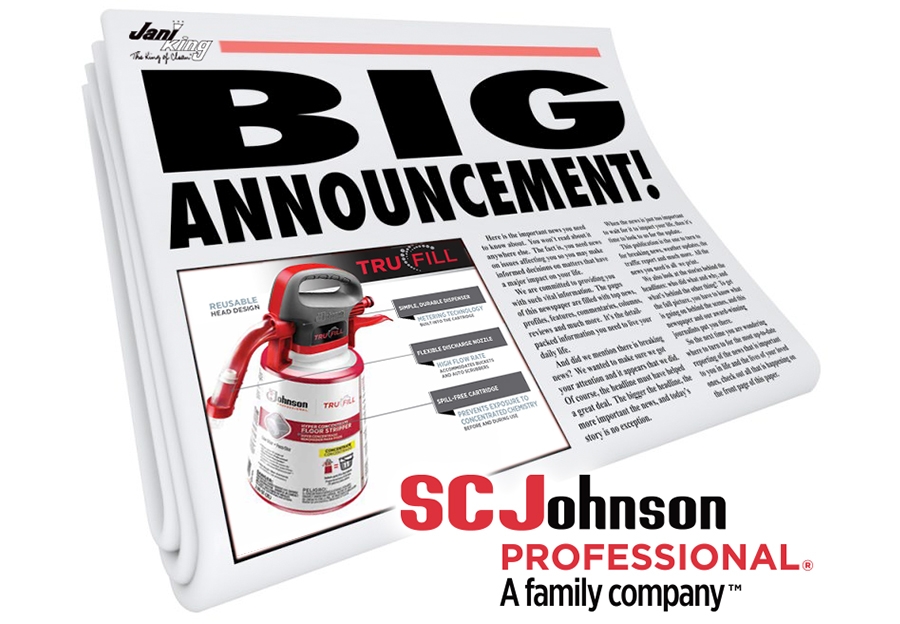 The TruShot Mobile Dispensing System offers a spray-and-wipe cleaning system that provides optimized dilution delivery. The easy-to-use system requires no mixing, measuring or stopping and its fully intuitive design will have cleaning crews using it in minutes. The no-spill, 10oz. concentrate cartridges snap directly into the trigger dispenser and the pre-labeled cartridges ensure you comply with OSHA workplace labeling compliance. The on-board 10oz. water reservoir easily fills at any water source reducing re-supply trips to the closet. Using high-quality SC Johnson Professional hard surface chemistries, this patented system simplifies dilution dispensing and replaces wall-mounted or other concentrate dispensing systems.
"This new mobile cleaning system is a game-changer for Jani-King," said Jani-King of Dallas Executive Director, Jimmy Petrick. "In an instant, our organization recognized this as an 'easy-to-use,' exceptionally efficient and intuitive cleaning system developed by SC Johnson Professional."