In April of 2016, I was working as an Operations Manager for Jani-King of Madison, but seeing the success of the franchise owners inspired me to want to join their ranks. After speaking with my wife it was agreed that we would become Jani-King franchisees.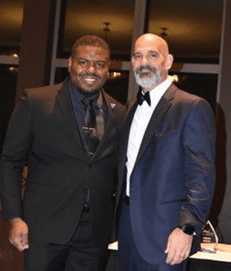 As franchisees, we subscribe completely to being detail oriented and our first account was a bowling alley where we took pride in its appearance. From April 2016 until now, we've grown from that one bowling alley and no employees to twelve team members providing professional healthcare cleaning services with an exceptionally trained staff at the Select Specialty Hospital. As of November of this year, we also acquired the High Point Christian School & Church, a 57,000 sq. ft. building.
Jani-King has been a major force in the advancement of my family and it is great to be a part of a family driven business. Leading our own business gives us the opportunity to work, gain a deeper sense of work ethic, while preparing a legacy to pass to our children and so on. Our success is attributed to our regional office. Mr. Jeff Weyker, the type you'd consider as the "coach," has groomed a very professional yet caring culture in our regional office with team members that are always on hand to train and provide mentorship. Our regional office has been very instrumental in the development of our business's personal philosophy to 'wow our customers every clean, every time.' That philosophy is what keeps us driven to success and excellence.
Somewhere over the next three years it is our goal to grow our franchise to service the Madison area beyond with the best day to day cleaning. We are looking to build special floor care teams as well as window washers, and dominate the healthcare cleaning market with Jani-King of Madison.