Jani-King Gulf Coast was recently named as one of the 2019 Best Places to Work in Baton Rouge. The award program is a project of the Greater Baton Rouge Business Report, the Greater Baton Rouge SHRM, an affiliate of the Society forHuman Resources Management and Best Companies Group.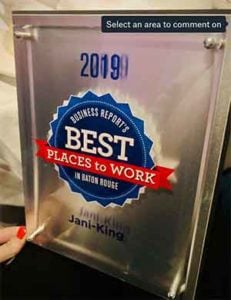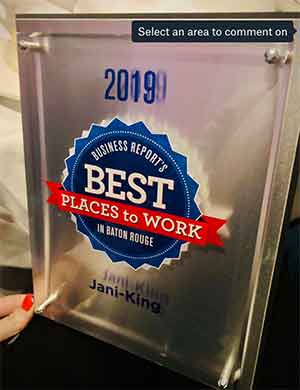 This awards program was created in 2014 to identify, recognize and honor the best places of employment in Baton Rouge, benefiting its economy, its workforce and businesses.
To be considered for participation, companies had to fulfill the following eligibility requirements:
-Have at least 15 employees working Baton Rouge;
-Be a for-profit or not-for-profit business;
-Be a publicly or privately held business or government entity/municipality
-Have a facility in Baton Rouge; and
-Must be in business a minimum of 1 year.
The rankings of the winning companies were released on the morning of September 24 at the awards event.
Jani-King Gulf Coast is the largest domestic Master Franchise within the Jani-King brand. In business for more than 30years, the Gulf Coast Region operates a strategic network of 12 regional offices through Louisiana, Mississippi, Alabama and the panhandle of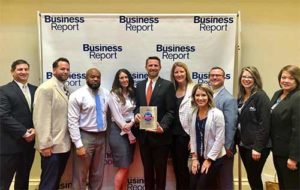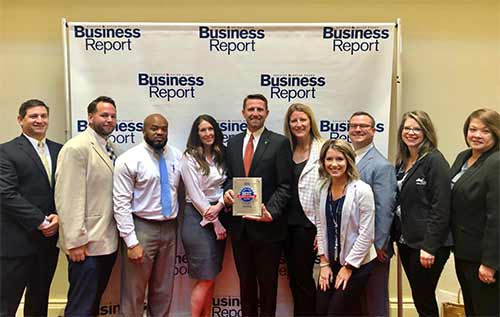 Florida. Those Regional Offices provide ongoing support to over 500 franchise owners/operators allowing them to deliver superior commercial cleaning services to thousands of customers. Jani-King GulfCoast franchisees provide commercial cleaning services to many different facilities including healthcare, office, hotel/resort, education, manufacturing, retail, restaurant and sporting venues making Jani-King the undisputed 'King of Clean.' For more information, call 985-370-7700 or goto www.janiking.com/gulfcoast.
If you would like more information about the Best Places to Work in Baton Rouge program, visit www.BestPlacestoWorkBR.com or contact Best Companies Group at 877-455-2159.