Winter is a messy time of year and keeping snow, ice and mud from being tracked inside often time feels like an impossible task. Keeping your business' carpets and floors clean isn't easy, and you don't want them to get ruined or torn up, which can lead to costly replacements. While it seems like the only solution is round the clock vacuuming and mopping, there's a better way. This winter season leave the cleaning to professionals. At Jani-King of Cincinnati, our experts are ready to sweep away your cold weather cleaning concerns.
Whether you're in manufacturing, healthcare, retail, hospitality or other industries, we're ready to help you beat the cold weather cleaning blues. We know that cleanliness is essential for not just your image, but your operations as well. When you partner with Jani-King, you get dedicated and experienced support to ensure your building stays clean all winter long.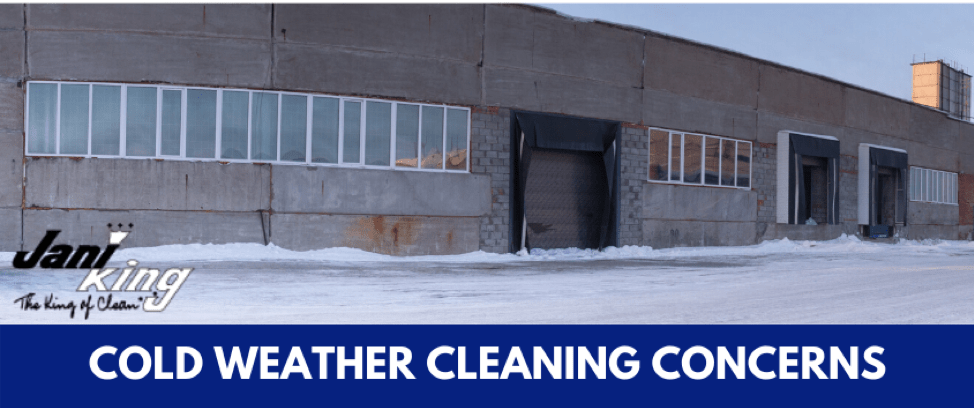 Our team is committed to providing you with quality services, and eliminating any dirt, mud or snow that gets tracked in. You don't want prospective clients waiting in the lobby of a building with a wet or dirty floor. We specialize in cleaning areas where outside elements are frequently tracked in, including floor cleaning and care, carpet care and lobby cleaning so you can rest easy knowing you won't have to worry about avoiding muck and grime while walking around the office.
We know you're busy and can accommodate any schedule with daily, weekly and monthly cleaning services available. We even provide 24-hour operations support and measured inspections because we're committed to providing the highest quality care possible to our clients. Need a one-time only deep clean? We can handle that as well. Using state-of-the-art equipment and chemicals, our expert staff works hard to make sure everything is spotless and up to your standards, keeping your building looking clean all winter long.
Since 1969, Jani-King has been an industry leader in cleaning services, providing unmatched, top-of-the-line care to our clients. From humble origins to the largest commercial franchise cleaning company with more than 120 offices in 10 countries, we help our clients save money while getting the superior services they need to keep their buildings looking spotless. Enjoying high quality cleaning services has never been easier and if you're looking to keep out ice, snow and mud this winter contact us for a free quote today. Be sure to check us out on Facebook, Twitter or LinkedIn for our latest updates and tips!