Did you know that the flu causes more than 17 million sick days a year, costing companies an estimated $7 billion dollars in lost productivity? Flu season lasts from October through May, which means January is peak time for the flu, so it's important to take the right steps to keep your employees healthy.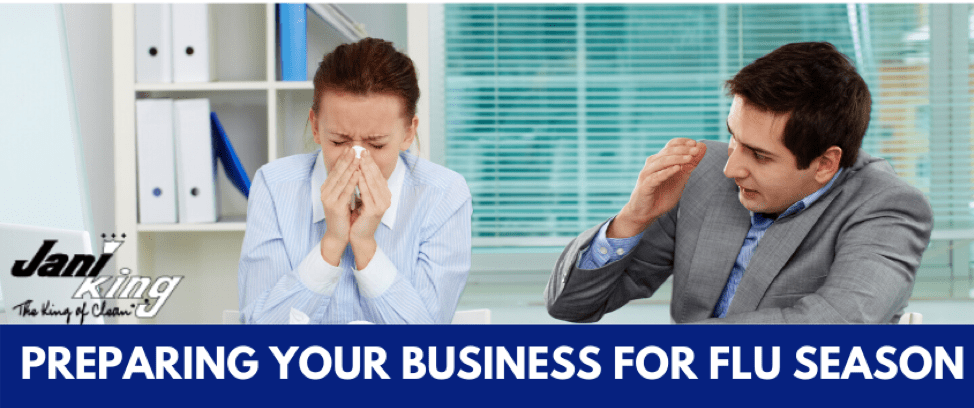 But with 90 percent of employees going into work when they're sick, keeping your office germ-free can be a challenge. That's why this flu season, Jani-King of Cincinnati is ready to help you keep your office clean so you and your staff can stay healthy –and productive.
With so many people working in close proximity, office spaces are often the perfect environment for the flu. Because the flu spreads quickly, keeping your office clean is one of the best ways to help prevent the spread of the virus. But eliminating germs means more than just a quick wipe down and disinfecting work spaces and countertops often isn't enough. Bacteria and viruses often thrive in areas we frequently use but least expect, including: faucets, door knobs or handles, and even elevator buttons. Deep cleaning these areas to eliminate the spread of infectious germs can be costly and time consuming, but at Jani-King, we're here to help keep your office flu free this winter.
By outsourcing your janitorial services with Jani-King of Cincinnati, you're not only saving time and money, but getting the reliable, high-quality cleaning services you need to keep your work space germ free and your employees healthy. Our all-inclusive costs help you avoid the expenses that come with managing an in-house cleaning staff, which means no more worrying about maintaining equipment, purchasing supplies, covering shifts, training employees or direct payroll expenses. And with cleaning programs tailored to your needs, you get the services you need without added costs.