The "Stay at Home" Orders issued throughout the South means vacated or under-trafficked buildings for weeks or longer depending on the facility.  Our unoccupied workspaces quickly become opportune hotbeds for mold, dust, and other contaminates during this imposed COVID-19 Coronavirus pandemic shutdown.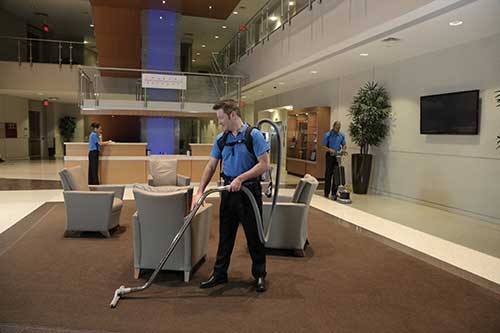 Nobody wants to return to their facility to find a massive mold problem, especially after the impact of the shutdown to our local businesses. Ideally, when the time comes, you are able to open your doors on day one with a clean, fresh, and healthy facility. This pandemic took many business owners by surprise and happened quickly without a specific end date attached.  So, what risk does my facility have for contamination while our teams were heeding the government's orders?  More importantly, what can we do about it? 
Keep It Clean & Healthy
 Buildings are constructed and designed for consistent use – and they are cleaned and disinfected with your routines in mind.  Most buildings lack fresh air and rely heavily on air conditioners to circulate air, and since many businesses have been closed for weeks, when business owners go to re-open, they will return to a dirty, or mold-infested facility.  With an uncertain timeline of business re-openings, many buildings are sitting unoccupied and uncleaned.  In the South, high humidity and dormant offices leads to a potentially challenging environment.  So, can you and your facility avoid this challenge and ensure your team members are returning to a fresh and professionally disinfected work environment?  Of course!  Here are a few tips and tricks to help along the way:
If you can receive touch-up cleaning services during the government "Stay at Home" orders, do so.  Even at a reduced frequency, hitting high visibility surfaces more often can be more cost effective than a deep clean later.  This ensures horizontal surfaces, especially those hard-to-reach locations, are wiped down with appropriate EPA approved chemicals. 

Removing all trash from receptacles and a thorough cleaning of refrigerators and microwaves or any other food spaces in your facility.

If possible, run the HVAC periodically during the "Stay at Home" order.  Your AC unit acts as a dehumidifier for your facility and will aid in the reduction of mold and other contaminants throughout your building.

 
Back to Work
Visit the facility a few days prior to re-opening if possible and take some time to walk around the building.  Your nose will be a key indicator if any problems exists – if you smell something, say something. Determine if you need a re-fresh clean, or a full deep clean prior to opening.  Jani-King is ready to provide a free risk assessment of your facility and office prior to re-opening.  A detailed deep clean with proper training and commercial grade chemicals will get your facility ready. If necessary, we may recommend a long-term cleaning and disinfecting program to ensure a safe and healthy environment for your team members in the future.