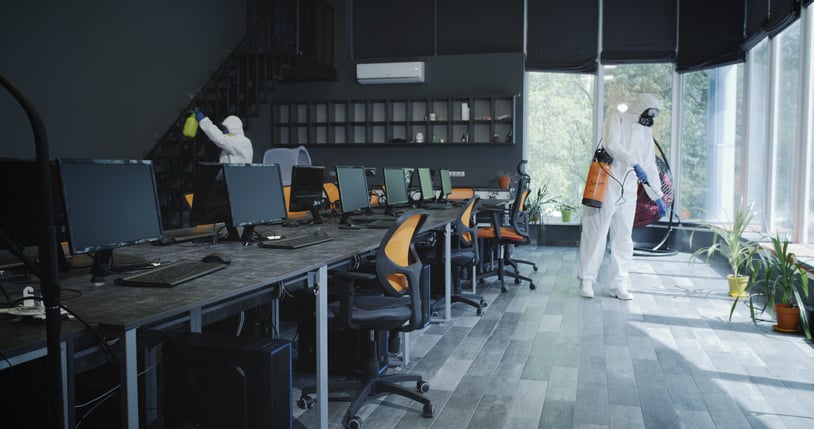 A cleaning business — one that operates with commercial clients that utilize offices, hotels, or restaurants to even theaters and stadiums — is a clear path to a stable, always-in-demand franchise.
And when you open a Jani-King commercial cleaning franchise, you'll embark not only on an opportunity to run your own business in a viable field, but you'll do so with an extensive support system that will allow you to focus on your business' growth while building relationships with your customers. You'll be free to delve deep into the details that matter the most to you and can rely on your Jani-King support to help handle the rest.
Partner Up with The King of Clean
Jani-King was established in 1969 and today remains the largest commercial cleaning franchise company in the world with more than 8,500 franchise owners across the globe. With an owner-operator concept and a strong regional support system, Jani-King franchisees will be positioned and equipped to handle the new demands of modern facility managers.
Jani-King of Cleveland has been working for three decades in the Cleveland/Akron area and has delivered the guidance to cleaning services needed for its franchisees to meet the established standards set by Jani-King.
Jani-King of Cleveland franchisees are part of the fabric of Northeast Ohio and the communities within. Jani-King of Cleveland has become a welcome part of the region and is proud to serve area institutions such as Canal Park (the home of the Akron Rubber Ducks), live-music venue Jacobs Pavilion at Nautica, and performing arts venue Playhouse Square Foundation.
Learn more about Jani-King of Cleveland and our community involvement here.
Franchisee Benefits Extend Beyond Name Recognition
Joining Jani-King of Cleveland will allow you to partner with one of the largest commercial cleaning brands in the world. But the benefits for franchisees go far beyond brand recognition alone.
Low-Cost Entry
Jani-King of Cleveland will offer you a reachable entry point for creating and starting a cleaning business. You'll be able to select from an array of franchise investment plans, including at least three that will require less than $20,000 to secure your own franchise.
Complete Training
Franchisees will not need prior commercial cleaning experience to start a cleaning business. Jani-King of Cleveland will provide training on the most current and proficient cleaning techniques — a must in the current climate with constantly shifting COVID-19 protocol — and will also provide manuals and video aids to cover a host of topics associated with running a franchise. In addition, regional offices will provide additional training seminars and refresher courses on a regular basis and will help with specialty certifications as needed.
New Account Offerings
With a team of sales professionals at the ready, Jani-King of Cleveland will help with finding new businesses for franchisees to service. If you're not a natural seller, you can partner with the regional office to have new business offered to you. Additionally, Jani-King signs national partnerships and will work with individual regions to sign specialty accounts — like hospitals or stadiums. These efforts will leave you with time to hone your efforts in providing quality service while still giving your business opportunities to grow.
Local and National Marketing
Jani-King is a worldwide leader in cleaning services, and as a franchisee, your business will have the recognition that the brand represents. Incorporating social media and modern technology, Jani-King has developed advertising strategies to target specific customer audiences and new customer lead generation. These marketing tools and more are made available to franchisees to promote your services.
Vendor Partnerships
Your objective as a franchisee is to provide great service and grow your business. But along the way, you'll have to handle a slew of details to operate day-to-day. Our administrative team will help and support these efforts as well with corporate and regional partnerships. We'll help you find the right source for equipment and uniforms. We can guide you to proper payroll operations. You'll have access to good rates on insurance for your business and programs customized to protect your investment.
Talk to our franchising team about opportunities available right now in Northeast Ohio.
Now is the Time to Start A Cleaning Business
With businesses across the country and in Northeast Ohio planning on returning to their workplaces this summer, now is the perfect time to get your cleaning business positioned for immediate growth.
The need for disinfection and modern cleaning services will be in high demand in the short-term and the long-term as workspaces have to be rounded into shape after months of non-use and new janitorial procedures will have to be adopted moving forward. A more in-depth approach will be needed as businesses must address every potential surface and piece of equipment that comes into contact with the workforce and customers after the lessons learned during the pandemic.
Your cleaning business, with a strong backing partner like Jani-King of Cleveland, will be ready to meet and take advantage of this new landscape. We're actively looking to expand our footprint in Northeast Ohio and are seeking franchisees to cover communities across the region including Mansfield, Wooster, Akron, Canton, Willoughby, Chardon, Painesville, Elyria, Sandusky, Vermillion, Solon, Streetsboro, Chagrin Falls, Youngstown, and Boardman.
Let Us Help You Take the Next Step
With a proven track record of helping franchisees get up and running, and then establishing themselves in their local markets, Jani-King of Cleveland is an ideal partner to help you start, build, and develop your cleaning business. You won't be going at it alone with us by your side, but you will be crafting your own business.
Contact us to learn why you should start a cleaning business with Jani-King of Cleveland.
Jani-King of Cleveland offers commercial cleaning, janitorial services, and franchise opportunities in Cleveland, Ohio and the surrounding communities. Contact us today to learn more.