Jani-King of Tampa Franchise Owner Shows Great Leadership
We at Jani-King of Tampa Bay are proud of Jarrod. He has demonstrated real leadership and ownership among our franchisees by taking on the marketing of his own business. He has strategically pursued prime opportunities in his area – not just good prospects, of course, but prospects which could lead to even better prospects. Even though some of these leads have taken some time to turn into customers, he has always seen the long run and showed patience in the sales process. Due to his prior executive financial experience, he operates his business at a high level of professionalism and sophistication. Congratulations from all of us, Jarrod.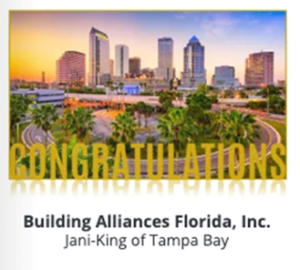 Building Alliances Florida, Inc.
Jani-King of Tampa Bay
James Roesch
Director of Special Services
Jani-King of Tampa Bay (Dazser)