by David Wright, Regional Director of Mobile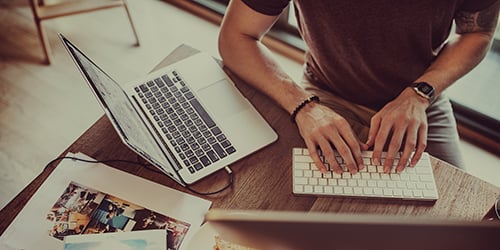 1. Take Risks
You may be comfortable in your position at work, but are you passionate? If not, it may lead you to a new job or even career, but ultimately will make you happier and more productive in the workplace.
2. Hold Yourself Accountable
It is easier to give up and stay where you are, but that doesn't lead to true happiness. Apply for new positions and prepare to be turned down. Eventually, someone will see the passion inside of you and reward your dream.
3. Happiness Is Contagious
When you are genuinely passionate about what you are doing, you will become happier. Happiness is contagious. Others around you will be more positive about it. You will want to be at work, and that may spread to coworkers around you. Find your passion and spread your joy.
4. Figure Out Your Priorities
Once you have established your priorities, look for a position that will fit them. Do you prefer to work alone or in a group setting? Do you thrive in a more relaxed environment, or are you at your best when busy? What makes you happy? The answers to these questions will help you discover your true passion.
5. Incorporate Your Passions
While you are working, take a moment out of your day to enjoy yourself. "If you like reading, bring a book and read it during your lunch break. If it is exercising you want, take a walk around during your downtime. Find something you enjoy and make it a part of your daily routine. Doing what you love will make your workday better, thereby making it more manageable and productive.
6. Talk To Your Coworkers
Find out what your coworkers are passionate about. Do they like to play tennis or bowl? Maybe you could organize a bowling league. If they prefer the arts, maybe plan a trip to a local museum. Spend time together as a group and get to know one another. This helps to establish common goals and perhaps leads to more lasting associations. Working with people you like and enjoy leads to more professional contentment.
7. Stay Positive
No matter what happens, stay positive. The more positive you are, the better you will feel. In the end, only you can decide if you are passionate about your work. Until you get to that place, make the most of what you have, and strive to better yourself at your job. Your work will improve, and the chances of a new position coming to you on its own will increase. Make sure you do not talk yourself out of your happiness. By bringing your spark of passion to your job and staying on track with your goals, your dream job can be yours if you want it.