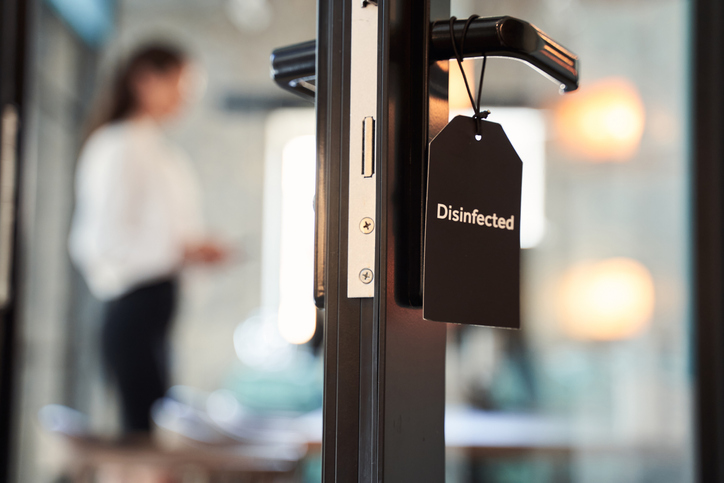 Despite Challenges, There are Avenues for Education, Growth, and Expansion
Commercial cleaning franchises during the pandemic have had to remain agile, flexible, and adaptable to the changing landscape of virus conditions impacted by an evolving knowledge level. The ability to adjust will remain essential. With the Delta variant a persistent threat, and vaccine hesitancy still an issue, COVID-19 remains a concern for businesses across the country.
The preceding two years have forced many organizations to re-examine their cleaning and disinfecting service providers. It's a trend expected to continue in both the short-term and long-term future. While it's been a change-filled and challenging time — both for businesses looking for answers in this area and the companies providing them — it's also opened up opportunities for commercial cleaning franchises during the pandemic to help their communities, grow, and expand coverage.
In commercial cleaning, the overarching mentality has shifted from cleaning for appearances and all the benefits that includes toward also cleaning for health. This shift presents ways for cleaning and disinfection service providers to inform and educate their clients on the value of proactive services to help keep their employees and customers safe and healthy, while sustaining their business.
Today we'll dive into three ways commercial cleaning franchisees can use the current environment to help their clients, and help themselves.
Who we are, and what we do: Learn more about franchise opportunities available with Jani-King of Cleveland.
Educate About Cleaning for Health
Cleaning franchises during the pandemic find themselves in an unique position. Not only were they essential to keeping many other businesses open and operational, but given the nature of their work they also became vital reservoirs of knowledge about the standards and expectations for health and hygiene in the workspace.
Marketing messages about how your services help an organization maintain a clean and vibrant workspace — be it an office, school, medical facility or otherwise — do not go far enough in showing the potential value your franchise can provide. Cleaning franchises during the pandemic are now able to show how disinfection services help businesses (and their customers) feel more confident about the safety of their workspaces.
Cleaning for health is now a mantra for many organizations and cleaning franchises would be well served to also embrace it and show how their system is on the leading edge of this shift. Additional disinfection solutions, such as electrostatic spraying, have gained popularity due to necessity for cleaning franchises during the pandemic. Many of these solutions, services, and focuses will endure beyond the current environment. Commercial cleaning partners can be leaders on how to continue to implement them.
Share the Positives of a Stable Industry and Relationship
According to the US Census Bureau, monthly business applications have doubled since March 2020. The reason for this is well established. Many have turned to entrepreneurial work, like starting their own businesses, in response to the pandemic when catastrophic job-less assailed seemingly every industry.
Because of that shake up of the job market, many people were and are still looking for recession-resistant business models to pursue better occupational stability. Commercial cleaning franchises offered proof of this resiliency during the pandemic as the services they provided became even more essential for those trying to stay operational.
Franchising, in particular, allowed those individuals the kind of freedom to pursue opportunities for themselves while also enjoying a certain degree of security by working with the backing of a proven franchisor. That relationship also offers a certain level of safety while working within the larger business.
By working with an established franchise system, franchisees are able to start with a proven model, resources, and expertise to make jumping off much less intimidating. For instance, it's easier to walk into a potential client meeting when you can highlight the company's years of experience, its number of franchise locations, and the clients the brand has previously serviced. The stability, both from the industry itself and the model, bears exploring for those interested in or already invested in commercial cleaning.
Expanding to Meet Demand
Demand is strong from all segments as businesses seek to keep their employees and customers feeling safe amid changing circumstances. Whether it is inquiries about best practices, meeting demands for regular facility cleaning and disinfection, or as a response to an infection, commercial cleaning franchises during the pandemic that embrace cleaning for health and encourage organizations they deal with to do the same will be positioned for growth and expansion.
The franchise model fits well as it allows for expansion into new communities while being run by local owner/operators, who know the area but have the support of a regional office that knows the ins and outs of the business. With the disruption caused by COVID-19, commercial cleaning franchises offer the opportunity for former managers and business leaders to pursue more freedom and flexibility while achieving business ownership.
Opportunities to expand will remain as more organizations recognize the need for proactive solutions. Those with the necessary skills and displaced by the pandemic will find these opportunities attractive.
Want to know more about our Franchising Program? Download our free ebook to learn if you're the right fit for a future Jani-King of Cleveland franchise.
Jani-King of Cleveland Powered Cleaning Franchising During the Pandemic
For more than 30 years, Jani-King of Cleveland has provided cleaning franchise opportunities to driven individuals striving to secure ownership of their own business. That support, through our Franchising Program, includes a collaborative communication effort, ongoing updates in the industry, and key benefits to help you set up a business built for success.
Jani-King of Cleveland is actively looking to establish franchise owner-operators in several communities throughout Northeast Ohio and is looking for ways to help driven individuals reach their business ownership goals.
Contact Jani-King of Cleveland to discuss your interest and learn how opportunity remains available for commercial cleaning franchises during the pandemic despite the challenges of the current environment.
Jani-King of Cleveland offers commercial cleaning, janitorial services, and franchise opportunities in Cleveland, Ohio and the surrounding communities. Contact us today to learn more.