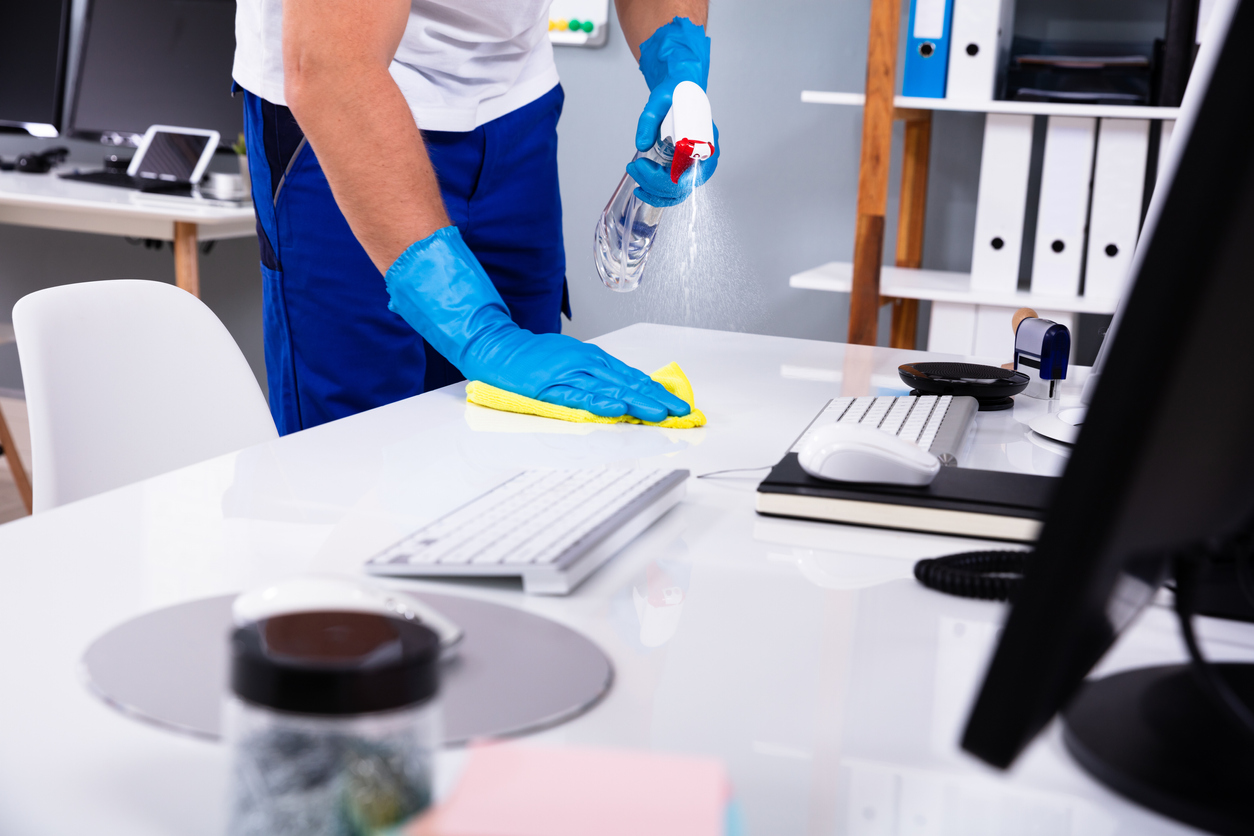 Depending on Professional, High-Quality Cleaning is More Important Than Ever
The latest wave of the ongoing pandemic has forced many businesses to examine their relationship with their current commercial cleaning services partner. The latest COVID-19 variant, Omicron, has led to a steep increase in cases virtually across the entire country. Besides the impact it has had on life in general, the most recent surge in cases has forced many organizations to further measure and validate whether their current cleaning and disinfection solutions are doing the job needed amidst critical circumstances.
Keeping track of the ebbs and flows of the pandemic, and how they impact cleaning and disinfection services, is challenging enough. But many commercial cleaning companies have also felt the impact of labor shortages, which have affected most industries and businesses during the course of the last year. The movement of many employees to leave their current jobs — dubbed 'The Great Resignation' — was particularly felt in the retail, food services, and hospitality industries.
Business spaces of all sorts — offices, industrial and manufacturing facilities, educational centers, healthcare and medical facilities, and more — are relying on commercial cleaning services to stay open and operational during the pandemic. These services remain a necessity due to the disinfection demands in place as part of the continued response to the pandemic. But with the struggles to maintain consistent standards in a changing environment and with potential labor turnover and shortages further affecting the quality of the work, your cleaning services partner may not have been able to keep pace with expectations.
In that case, it's time to turn to Jani-King.
From hospitals to arenas and everywhere in between. Jani-King of Cleveland services every business space imaginable.
Tap Jani-King of Cleveland to Be Your Cleaning Services Partner
For more than three decades, Jani-King of Cleveland has used Jani-King's proven franchise model and an uncompromising commitment to current and effective cleaning and disinfecting tools and techniques to deliver top-of-the-line service to customers.
As your cleaning services partner, our owner-led franchises lead strong teams to ensure you get the attention needed to uphold the guidelines for safety and cleanliness necessary to continue operations. As local business owners themselves, they are invested in developing long-running partnerships built on clear communication, superior service, and positive interactions with those they serve. They'll vet their team members and make the customer experience paramount to the process in order to deliver a professional cleaning and disinfection service.
Each local franchise is backed by a Jani-King Regional Support Office, which powers the Double Check system of our franchise model to provide unparalleled service and support. The service provided by the local franchise is guided, informed, and qualified with the support from the regional office. It means there are multiple systems in place to ensure the quality of the cleaning services, communications and updates you need.
It's this Double Check approach that has led Jani-King of Cleveland to become a trusted cleaning services partner for several Northeast Ohio institutions, including the Playhouse Square, University Hospitals, and the Cleveland Cavaliers.
While individual franchisees work to service their own communities, they also come backed with Jani-King's support in the latest and most effective cleaning and disinfection practices and technology. Jani-King has continually developed best practices for dealing with different stages of the pandemic, including the most recent Omicron wave. Access to the latest disinfection protocol and up to date information aids our franchisees in being able to make your spaces safer no matter the changes that occur.
Jani-King also instructs all our franchisees on the proper materials to use, how to use the latest technology, and the right guidelines to follow in order to implement proper cleaning and disinfection services. This includes information on which disinfectants are FDA approved, how to use necessary equipment like electrostatic sprayers, how to properly clean to further enhance disinfection efforts, and much more.
Cleaning services lead to healthier workers: Learn how cleaning for health can impact your bottom line.
Trust Jani-King of Cleveland for Commercial Cleaning Services
If you've become unsatisfied with your current commercial cleaning services partner, explore your options with Jani-King of Cleveland. We'll apply our proven expertise, industry-leading experience, exceptional capabilities, and the Double Check system of our franchise model to prove your organization with the service and performance you need.
We've been a leader in the ongoing fight to keep businesses open during the pandemic with regular updates on the best practices needed to disinfect your facilities. Vendor partnerships mean every franchise will have access to the latest equipment along with the best cleaning and disinfection agents and the other supplies they'll need.
Connect with us today to learn more about how we work to be your ideal cleaning services partner.
Jani-King of Cleveland offers commercial cleaning, janitorial services, and franchise opportunities in Cleveland, Ohio and the surrounding communities. Contact us today to learn more.