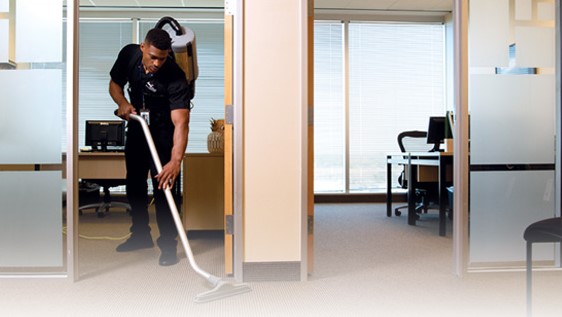 Clean floors make a great impression on your business when a customer or guest walks into your building. But with so many people passing through your facility including employees, client and delivery personnel, your floors are bound to become dirty and worn. To create a clean and welcoming office environment, rely on Jani-King to handle all your cleaning and disinfecting needs. We provide high-quality carpet and hard floor cleaning schedules that make your office stand out from the rest.
Why Cleaning Matters
First, allergens and bacteria love to breed in carpets. While carpeted floors provide a cushion to your feet and can hide dirt, maintaining them is crucial so they don't become a breeding ground for all sorts of bacteria, or even worse, mold. Second, the appearance of your carpet is important. Carpets with stains or that appear dirty can set a bad image for your business. Third, dirty carpets can have a repulsive smell, which is something your employees will certainly notice.
Your employees and clients expect to walk into a beautiful, clean space. Clean carpets and hard floors set an example for anyone who walks into your building, putting them in the right frame of mind.
Simple vacuuming or broom cleaning will remove the daily dust and dirt that gets tracked onto your carpets. Vacuuming with Hepa-filter vacuums also removes allergens. Improving the air quality of your building, as well as keeping your carpets clean, are key benefits of the Jani-King floor care program. In fact, proper commercial cleaning services are a great way to better protect the health of your employees and customers.
For over 50 years, Jani-King has earned our trusted reputation by providing results. No matter your needs, we can deliver a commercial cleaning program that provides consistent, quality cleaning that enhances the value of your business.
Jani-King offers commercial cleaning and franchise opportunities. Contact us today to learn more.