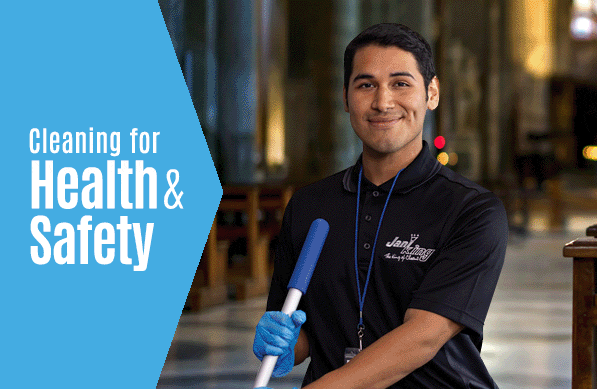 It's logical your members are more emotionally connected to their place of worship than their office or work facility. Places of worship are not just buildings; they function as a foundation or centerpiece in many people's lives. For churches, mosques, synagogues, temples, and other places of worship to continue to fulfill the important role they play in people's lives, they must be properly maintained through comprehensive commercial cleaning and disinfecting services.
Utilizing a professional commercial cleaning program, like the one Jani-King can customize, will better protect your members from the spread of viruses, especially around the holiday season. Jani-King's cleaning and disinfecting services help your place of worship remain open, all while having a sparkling and healthy appearance.
Worship facilities should begin preparing now for the arrival of visitors who will be present during the upcoming holiday season. A fresh, clean facility will leave a first impression that will dash anyone's concerns about health risks or the presence of flu viruses.
Jani-King's cleaning and disinfecting program can include electrostatic sprayers, hydroxyl generators, fogging equipment, and manual disinfecting methods. These can all be tailored for the best results in your place of worship.
Hard Floor & Carpet Care
Evaluate the current procedures for your floors and consider how the cleaning and disinfecting may need to be revamped as foot traffic increases. Added foot traffic means more opportunity for slips and falls from things like wet tile because of rain or snow being tracked in from outside or slick pathways leading to the entrance. Jani-King will work with you to combat common holiday floor hazards, as well as keep your floors looking their best.
Places of worship see a significant amount of foot traffic not only for their regularly scheduled services, but for special events such as funerals, weddings, and holiday events. While more people visiting your facility is fantastic, heavy foot traffic can take a toll on your floors, especially your carpet. Extend the life of your carpeting by scheduling a consultation with one of our team members to discuss your carpet cleaning needs.
Clean & Disinfect Public Restrooms
Restrooms also have a lot of visitor traffic and must be cleaned and disinfected accordingly. As attendance and foot traffic increases over the holidays, your restrooms will require extra attention. Take preventative measures to have our Jani-King team clean and disinfect the toilets, urinals, baby changing stations, trash bins, fixtures, countertops, mirrors, and doors. Proper restroom care better protects the health of your members and guests.
Heavy Traffic Areas
Stroll through your place of worship and make note of the places people will be visiting most often. Note the surfaces that people are coming into contact with. This information will help us form the proper cleaning and disinfecting steps we may need to take to make your place of worship the best it can be. The cleaning and disinfecting of high-touch points is an important step in keeping your facility healthy.
Maintain Pews & Seating Areas
Before COVID-19, many places of worship accepted the bare minimum of care with it came to cleaning and maintaining pews and seating. A quick dusting here and a little furniture polish there was enough to at least keep the seats looking clean. Today, additional maintenance is needed and appreciated to keep your visitors safe and healthy. Jani-King's program ensures pews and seating areas are cleaned and cared for to optimize their lifespan and better protect your visitors.
For over 50 years, Jani-King has earned our trusted reputation by providing results. No matter your needs, we can deliver a professional commercial cleaning program that provides consistent, quality cleaning and disinfecting that enhances the immaculate look of your place of worship.
Jani-King offers commercial cleaning and franchise opportunities. Contact us today to learn more.