Proven Success
Since 1969, Jani-King is one of the most successful franchises in the franchise industry. Jani-King has done the work for you and have found the right way to operate and produce results so you don't have to dig through and have your own ups and downs figuring it all out. A franchise company wants and needs you to succeed so they'll provide you with everything you need and train you exactly how to do it. They'll provide you with the blueprint for success and then it's up to you to see it through.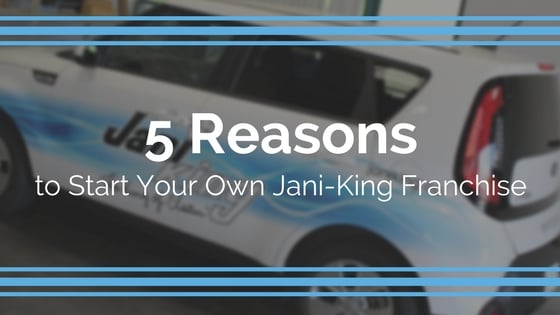 Training Programs
Jani-King will give you all the proper training needed to follow through on the proven methods to running your own successful franchise. You will receive training that will help you deal with whatever comes up while you're running your business, another perk of Jani-King having already dealt with every obstacle out there. Moreover, their training will make you a better boss while running your franchise.
Marketing Assistance
Worried about attracting and retaining customers? Jani-King will provide you with assistance in this area too. Proven strategy and tools that attract customers and keep them coming back. Additionally, they help you start your franchise by guiding you through marketing and budget planning.
Ongoing Operational Support
You're not alone in this and you don't have to be either. Think of your Master Franchise as your mentor that's there for you whenever you need. Jani-King has dedicated staff that will assist you in your ongoing business. Share ideas, get advice and seek guidance during rough spots to make sure you continue to grow and be successful. After all, your success is ultimately their success too.
Far Less Risk
We all know that starting your own business is a huge risk. Starting your own business from scratch has effects on your finances, relationships and well-being. Buying a franchise takes away a lot of the risk of negative impacts on your life. Everything is still up to you to make it all happen but the outcome of your hard work when becoming a new franchise is certainly more predictable. So, if you're ready to own your own business with far less risks and a higher chance of success buying a Jani-King franchise is certainly for you.