Starting your own business is hard work and it takes a very motivated person to see it through. These brave franchise owners all have successful habits that distinguish them from the competition and give them that extra drive to ride out hard times and capitalize on success. Here are 5 habits that will make you a more effective and successful entrepreneur.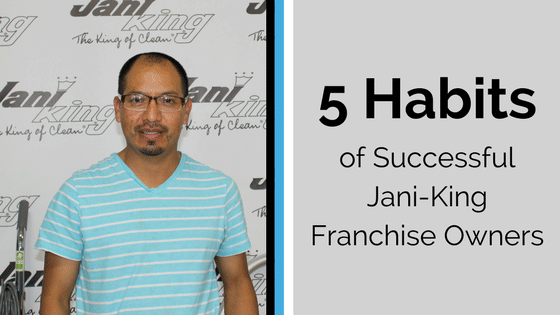 1. They Have Fun with Their Work
Successful people do everything unsuccessful people complain about or refuse to do. If you can find joy in your work and have fun with it, you're going to be admired, compensated and referred. Successful people roll up their sleeves and take pride in whatever they do, and they feel really happy about it all. When you start seeing your work as fun, you start having fun and being more productive.
2. Perfect Does Not Exist in Their Vocabulary
Good entrepreneurs believe that finishing a job is better than doing a perfect job. Perfection does not exist and trying to achieve it wastes time. So, instead of trying to make something perfect, just get it done. Once you buy into this concept your work will be better than perfect because it'll be real and yield real results.
3. They Know Their Purpose
Purpose is what gives your life meaning. Your purpose is what keeps you going, it's what you believe your life is meant for and making it a reality. People who have discovered their purpose and fully buy into it are never lost, as they're guided by their purpose. Knowing your purpose will help you say no to distractors and subtractors in your life. Successful people say yes and no to opportunities based on whether it helps serve their purpose in life.
4. They Live Like There's No Tomorrow
If you live like there's no tomorrow, you're going to approach everything as a must do for today. This doesn't mean go skydiving every day. Living like there's no tomorrow is about taking a step back and asking yourself if you like where you're at and what you're doing, and if the answer is no then you leave that situation for better opportunities. This goes along with having fun with you work. Successful people accomplish so much because they put passion into what they do and do what they are passionate about.
5. They Have a Positive Mental Attitude
Successful entrepreneurs have the most positive outlook on life and are always joying themselves so in order to do that they need to practice having a positive mental attitude. No one has ever accomplished anything by pouting. The most successful people choose to view opportunities in the most positive light. In order to have a positive mental attitude these entrepreneurs practice seeing each day as a gift and believing in themselves. It's not a crime to compliment yourself or pat yourself on the back.
Those are the 5 habits Jani-King entrepreneurs have in common. If you have the right attitude and you're looking for a change professionally, where you have greater control, open ended career progression and a new level of satisfaction then consider opening your own Jani-King Commercial Cleaning franchise. If you are interested in joining our Jani-King community by starting your own commercial cleaning franchise or if you're in need of quality commercial cleaning services, please contact our Jani-King of Oregon regional offices at (503) 778-7777. You can also find out more on our Jani-King of Portland or Jani-King of Eugene and Salem website.