3M is a Valued Commercial Cleaning Vendor for Jani-King of Oregon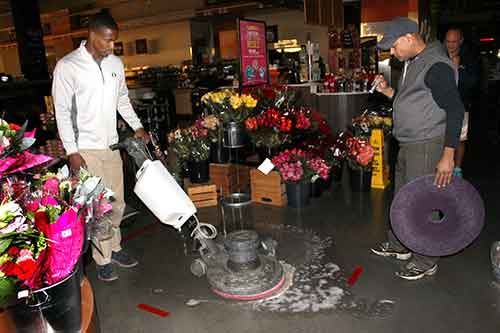 If you had to name the world's most interesting vendor representative you would have to call out 3M's Eric Mitchum.  Eric is an example of what every business would hope for in a representative.  His attention to detail, enthusiasm and ability to share his knowledge is truly a gift.  Jani-King of Oregon has been working closely with Eric over the past couple years, and during that time he has helped support our Jani-King of Portland and Jani-King of Eugene/Salem offices within our organization by providing us with the latest knowledge of 3M commercial cleaning products and training techniques.
A recent success story involves working together to help a local grocery store solve the issue of pesky stains on their concrete floors.  During the evening we were able to remove and refinish three different stains to blend into the surrounding floor, which was a challenge as the location and condition of the floor affects the reflective quality of the floor.  Halfway through the second stain the lights in the store had shut down, and the staff was not able to turn them back on. Now most of the time this would stop a normal person from being able to finish the task at hand, but the lack of lighting was not going to stop Eric!  A bit of light from a phone and some tape to outline the stain and viola, another stain gone!
Jani-King of Oregon is truly fortunate to have stellar vendor partners and vendor representatives to work with!  Thank you 3M and Eric Mitchum for all of the support that you provide us!
To learn more on our commercial cleaning services, visit our website or give us a call: 503-778-7777.
Interested in 3M's commercial cleaning products Jani-King supports? Visit their website or reach out to us with questions.