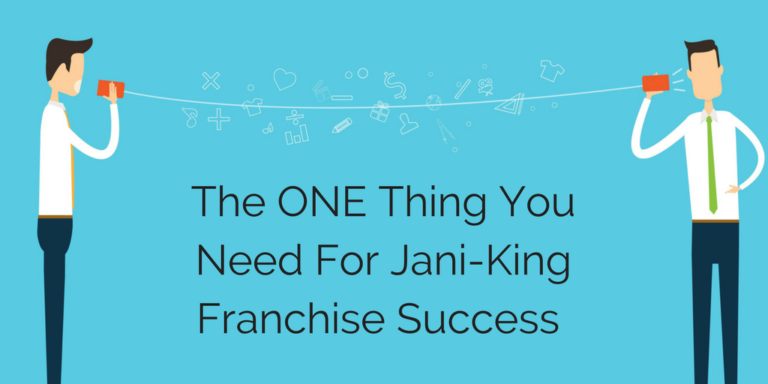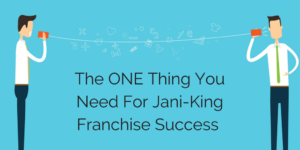 One of the easiest things for a Jani-King franchise business owner to implement actually costs NOTHING, but it can increase revenue, client retention rates and improve operations. Are you ready to know this one, mighty secret to success?  Drum roll please…. the answer is COMMUNICATION!
Are you a great communicator? Do you love LISTENING to people, understanding their need and then solving that problem for them?  That's one of the biggest keys to success in owning a service business.
Simple and frequent communication with your client can mean the difference between a loyal, dedicated customer or simply an acquaintance that may or may not be happy and who is most likely to shop for services based only on price.
Ask yourself this, if you passed your customer on the street would they say "hello" in passing? If the answer is "no" then you have some work to do.  Now if you're reading this and you're an over-achiever, you're going to want to run to your client and pour it on thick. Wait. Dropping what you're doing and running out to chat may not be the most effective or sustainable way either. You have many other hats to wear and each situation requires some forethought.
Simple and frequent communication is just that, keep your interactions simple and do them often.  To start, how about thanking your client for their business?  A quick visit to deliver a handwritten card and a small gift can be just the connection you need to jump start your new communication strategy.  From there, you can move into short visits, emails, or even leaving notes or phone calls when you notice that something may need attention. For example, while cleaning you noticed that an office had a light bulb out or maybe one of the sprinkler heads in the landscaping isn't working properly.  While neither of these items may be things that you are directly responsible for,  your client will appreciate the notice and feel confident that you are looking out for their best interest. That's another great, value added service that costs you nothing but impresses your client.
Another great way to keep the communication going is to be the one-stop-shop for your client. Take it upon yourself to offer your client your full range of services, which means providing pricing for things like carpet cleaning, widow cleaning, pressure washing, light maintenance and other services that you are an expert at providing.
Following these simple communication techniques will pay off in customer satisfaction and business success. Remember, simple and frequent communication with your client, staff, vendors and regional office support team can ultimately lead to a more profitable business for you.
If you are interested in starting your own commercial cleaning franchise in Oregon, or would like additional help to make your current Jani-King Franchise successful, contact our Jani-King of Oregon regional offices at (503) 778-7777. Also, please visit our Jani-King of Portland or Jani-King of Eugene and Salem website.