Sticky Surfaces? Jani-King Has a Better Solution
It is a situation all of us know too well; your janitorial service cleaned the night before but your shoes stick to your breakroom floor and the desk tops are as tacky as a sticky note. Some lay blame on the tool that they are using, whether that be a mop or a rag or sponge. Others, think it is the product that they have chosen which is making the sticky mess all over their counters. But what they—and many of us—have done wrong is not dilute their cleaning concentrate the correct way.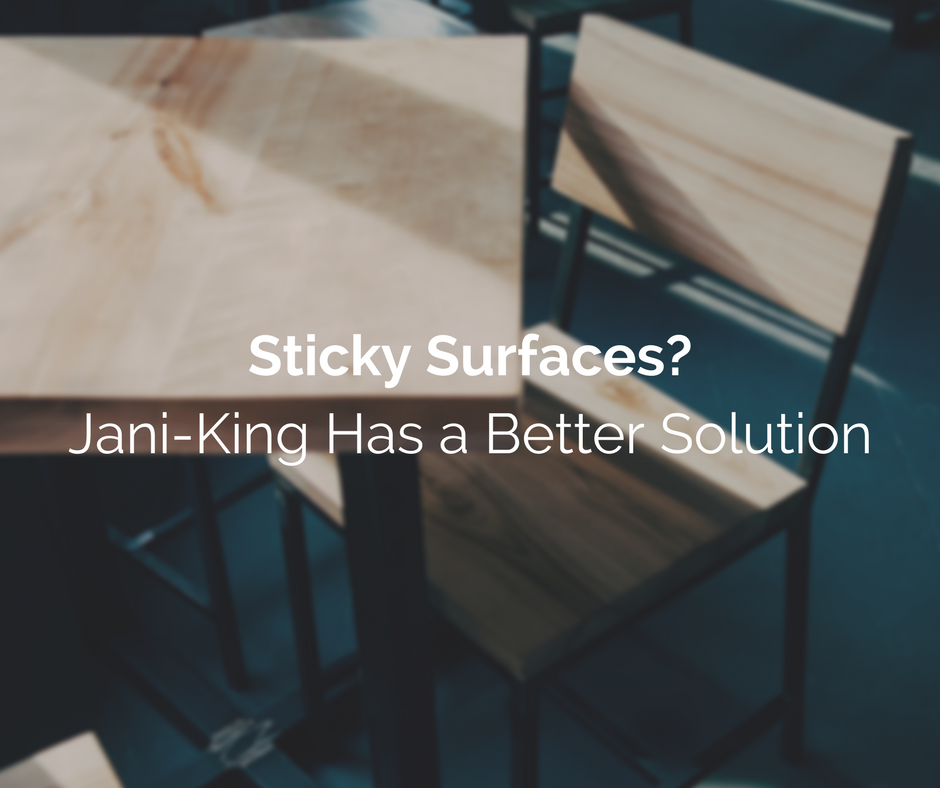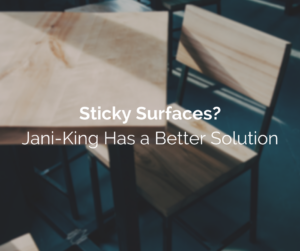 It seems like it would be common logic that if you make the cleaning solution a little bit stronger than it will work better, right? I mean that's pretty much the whole reason to have concentrated cleaning solutions… WRONG. The amount of water added to the concentrate is very important for not only your own safety, but for the quality of clean that you are going to get from the product.
Telltale signs that you have gone down the "more is better" path is if you find that your surface is tacky, dull or streaked.  It might be time to reevaluate how you are mixing your cleaner before you start to clean. It is very important to follow the directions on the label of the product that you are using. They are carefully calculated to make a solution that is balanced to give the maximum cleaning power.
Let's take it back to high school chemistry for a moment. I know, that sounds like a horrible and boring idea, but in chemistry you should have learned that in all solutions there is a balance between the solute (concentrate) and the solvent (water) that causes both to be combined completely without any extra product left over; this is called a balanced solution. But, when the balance is not right, then there would be a part of the solute that never got dissolved because the solvent has hit its limit. This is what happens when you try to dissolve more chemical than what the directions say into the water. It doesn't make the cleaning solution any more effective, if anything it most likely weakens its efficiency.
Here are some other reasons why it is a bad idea to mix in too much concentrate:
It could possibly be dangerous to use
It may be too strong and damage what they are applied to
Does not clean as well
Wastes products
And costs more money because of more frequent reorder
There are ways to prevent this situation from occurring, other than the obvious 'read the directions line' because sometimes those directions can be difficult to decipher. 3M makes a "Twist & Fill Chemical Management System" which dilutes the chemical that you choose for you. No work is required by you; the dispenser does all the work. When asked how Jani-King Franchise owner Daniela Molina makes sure her solutions are correct she commented that she never mixes them on her own because that is too confusing. "We use the 3M Twist and Fill chemical solutions" Molina Said, "this way they have the right amount of chemical so that it properly cleans and controls chemical costs."
However, life does happen, and sometimes we do make our solutions too strong. So, how can it be fixed? An easy yet tedious solution is to wipe or mop the area over again using warm water making sure to rinse and ring out your rag or mop every so often, so that all the chemical is lifted off the surface. But next time make sure that you use the correct ratio of solute to solvent, and you'll never have to think back to high school chemistry ever again.
If you are looking for a change in Janitorial Service Providers or would like to learn more about Jani-King of Oregon's janitorial services please contact us at (503) 778-7777 or fill out our simple, free cleaning quote form and someone from Jani-King of Oregon will contact you to discuss your specific cleaning needs and answer any questions you may have.