By Jeff Freeman, Owner of Jani-King Eugene/Salem.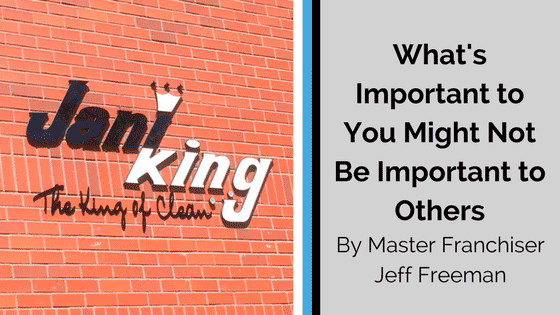 Have you ever stood in awe of something really spectacular, such as, an athlete performing an amazing performance? I had this happen while watching a young athlete compete in the 2016 US Summer Olympic Trials in Eugene. As the owner of Jani King Eugene/Salem, which was providing the cleaning service for the Event, I came to show my support. And while I'm not necessarily a fan of the javelin throw, this event and one person in particular caught my attention. As the competitor took position, the public-address announcer informed everyone that this young woman would be throwing the javelin in her last attempt to qualify and make the team. Additionally, if she failed the throw her career was most likely over, and the fact that she was in the middle of the standings didn't help her chances. I wondered what she could be thinking in that moment, what could be going through her head. Her back was against the wall, it was literally do or die, and she knew it. It gives me goose bumps just writing about it now.
I was seated in the upper section of Historic Hayward Field at the University of Oregon as Track Town USA was about to have another amazing performance to add to all the great performances of the past that have been accomplished there.
She took her time as she took a deep breath before hurling her body down the track, putting everything she had into this one throw. As I looked on, even from up high where I was watching, I could hear her shout with all her strength as she threw that javelin. I watched in amazement as this thing arced so high and flew so far that it seemed like time stood still. The rest of the world was on hold, waiting and then it came, the woosssh and sticking sound brought an eruption of cheers and applause into Hayward Field. It was astonishing, a moment of pure brilliance that ignited the crowd with adrenaline.
It was the throw of a lifetime for her and she blew far past the leaders mark by such a record setting distance that she vaulted past her competitors to not only qualify but, win the Javelin throw of the US Summer Olympic Trials. I was so lucky to be there, and funny thing is I never did get her name but that doesn't really matter to me because I saw greatness. A name doesn't change the feelings I had or the memory of the entire event.
So, you're probably wondering, "how does that relate to owning a Jani King Franchise?"  Maybe throwing a Javelin is not important to you, it's not to me either but being part of greatness is important to me, and I hope it is to you. I bet that the young lady who threw that javelin right before she started her run was maybe thinking "OK, this is it, this is what I've aimed for all my life. I've dreamed of this and I've trained for this moment, and I can and I will DO THIS!!!" She wanted greatness and she put everything she had and went after it. So, let me ask you, is this how you feel about owning your Jani King Cleaning Franchise business? Are you working towards building a future for yourself and your family? Do you want your moment of greatness?
You don't have to be compete in a stadium to hear thousands cheer your name, and stand and applaud for you. The best cheers come from inside yourself when you know you've done well, and from the applause you get from your family and children when they say, "Mom & Dad thank you for taking care of me." Owning a Jani King Franchise here in Oregon, either in Portland or Eugene/Salem can provide you with an opportunity to join a winning team
Let's go for the gold together!