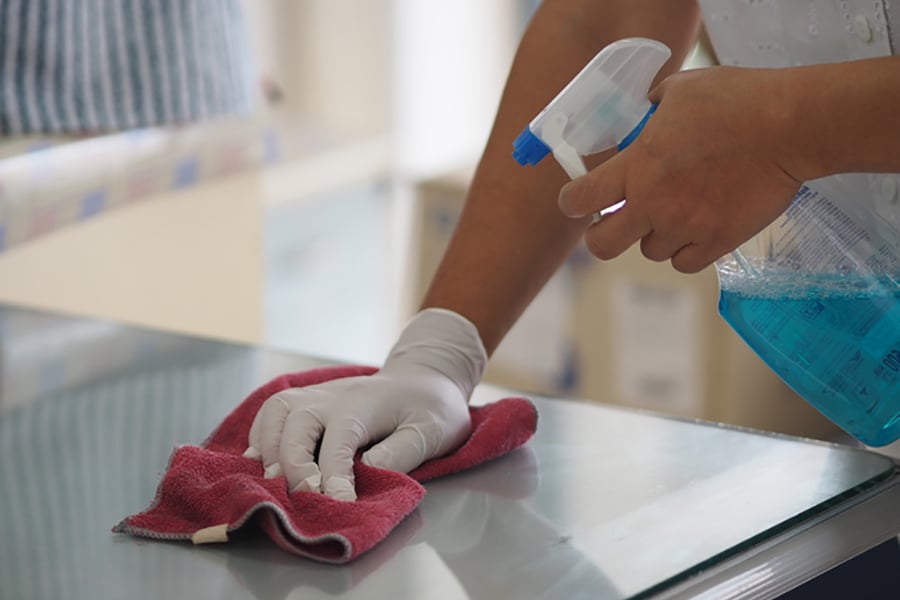 Cleaning business training is a key facet of the Jani-King franchise model. In a time of shifting and changing protocols and practices, you can rely on us to help you get started in this still-growing industry.
The last 14 months have driven home the message that there is a greater need than ever for professional-level disinfection and cleaning services. As the pandemic wreaked havoc with everyone's day-to-day lives, it was the commercial cleaning industry which served to safeguard the businesses that remained open and to prepare others for their return. And with vaccination efforts well under way and return-to-work dates being scheduled by many companies, there's no sign that growth in the industry will abate any time soon.
With the newfound concern and appreciation for cleaning and disinfecting services, growth for the industry is projected for most of the next decade. With Jani-King of Cleveland, you'll get the opportunity to run your own business. And with our cleaning business training support, you'll be able to devote more of your time and energy to serving customers and growing that business while we provide the framework to give you a strong foundation.
Stay Up-to-Date with Jani-King
Figuring out where to begin with a new cleaning business can be difficult. Keeping pace with a constantly shifting and changing environment — due in large part to the pandemic and the new awareness of the role cleaning can play in helping prevent and manage outbreaks — may be even more hard. But in partnering with Jani-King of Cleveland for your cleaning business training, you'll always be on solid ground with both our baseline initial and then ongoing training.
To start your franchise, you are not required to have a background in the industry or substantial prior experience. Jani-King was established in 1969 and has compiled more than 50 years of expertise into an accessible beginning package that will instruct franchisees on the most current, effective, and proficient cleaning techniques used today. With more than 8,500 franchise owners across the world, Jani-King knows what works and what is needed in today's environment.
Those resources also play a big role in making sure all franchise owners are kept in the loop about the goals and thresholds regarding workplace cleaning practices. For instance, in early April, the CDC issued new recommendations on cleaning and disinfecting homes and workplaces.
The best practices of six months ago may not still apply today, and could likely change again in another six months as the country continues to come to grips with returning to normal in the midst of a pandemic. Jani-King's guidance will make sure you're delivering the standard-surpassing service your clientele deserves, and will arm you with the knowledge needed to help your customers future-proof against further potential virus disruptions.
Cleaning business training encompasses more than just the technology, techniques, and best-practices used in the industry. By becoming a Jani-King franchise owner, you'll also learn valuable insights into the kind of skills needed to operate any business. Maybe you've never managed a team before or dealt with customer relations. Handling and organizing the billing for your services isn't a skill native to many. Do you know how to set up payroll and insurance options for your own employees? These are some of the many aspects that Jani-King of Cleveland can help illuminate with our detailed training program.
The training you receive will be thoroughly documented every step of the way with customized manuals and video training programs. Practical hands-on training work will be augmented with classroom-style lectures and discussion, demonstrations, and video presentations.
Even after you're on your way as a franchisee, you'll continue to receive and count on the training support offered by Jani-King. With regional offices serving as hubs to offer additional training seminars and refresher courses, franchisees will consistently be kept up-to-date on the latest developments in the industry.
Now is a great time to start a cleaning business. Read more on our blog. Franchisees Receive More Than Training
Jani-King commercial cleaning franchises receive additional backing in addition to the start-up and ongoing training offered.
The low-cost of entry for a Jani-King of Cleveland franchise will provide you multiple options for creating and starting a cleaning business — all within reach for most prospective franchisees. An array of franchise investment plans are available, including at least three that all require less than $20,000 to begin your own franchise.
Jani-King of Cleveland can also help franchisees acquire new customers to service with our team of sales professionals ready to assist. Jani-King enjoys a worldwide reach and has many national partnerships, and will work with individual regional offices to sign specialty accounts — such as sports teams or healthcare facilities. This all adds up to regional office support that will help you find new customers in the opening months of your franchise ownership.
You'll earn important tie-ins with local and national marketing efforts. Jani-King has developed strategies to target specific customer audiences and new customer lead generation through modern technology and social media. These tools, and brand recognition carried by Jani-King will all be available to promote your services.
With valuable vendor partnerships, you won't get lost in the weeds trying to manage every single detail of day-to-day operations. Our administrative team will point you in the right direction for things like payroll operations, where to find the right source for uniforms, and how to receive good insurance rates and programs designed to protect your investment.
Interested in learning more? Contact us here to get started.
Join The King of Clean Today
Jani-King of Cleveland has been working for three decades in Northeast Ohio and in that time has become an invested partner in the region while providing the instruction needed for its franchisees to me the standards established by Jani-King. We're still looking to expand our footprint in the region and our franchising team would welcome the chance to talk to you about opportunities ranging from Avon to Mentor — and all points in between.
Contact us today to learn more about how our cleaning business training can set you up for success.
Jani-King of Cleveland offers commercial cleaning, janitorial services, and franchise opportunities in Cleveland, Ohio and the surrounding communities. Contact us today to learn more.